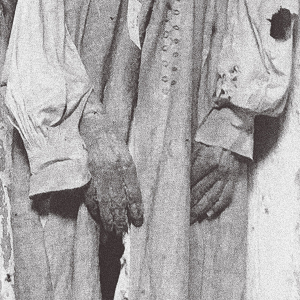 At the very end of 2017, suddenly there was an Italian act that started terrorising our globe with a truly impressive form of Death Industrial Ambient Drone stuff. Clavicvla's Arsonists Prophets EP was like a harsh fist in the face of the Nazarene. Even more impressive was 2018's follow-up, Sermons, which undersigned considered (and still considers) one of the best albums within the genre from that very same year. Unyielding terror, the sonic expression of misanthropy and disgust, that album brought forth a morbid soundtrack that defined the world's worst pestilential sickness: humanity. And now, oh praise the lords of the apocalypse, this Italian project returns with Sepulchral Blessing, continuing their quest to promote annihilation and destruction.
As introduction I'd like to start with a quote from the labels' press text: Italy's Clavicvla channels the cosmic void, the source and finality of all things manifest. A true sonic force that reverberates through the core, allowing to escape one's physical form and delve deep without, where logic and comprehensions are null… This is quite a fitting definition of what to expect from this newest symphony.
Sepulchral Blessing got released on tape (with a white outer slipcase), on vinyl, on compact disc and digitally via two of the most impressive labels lately, Sentient Ruin Laboratories and Cyclic Law. The vinyl edition was printed in 300 copies ('regular' black vinyl, with printed inner sleeve), the CD arrived in an edition of 500 copies (no idea about the number of cassette copies that are available).
Ittiel, the sole (human?) being behind this project, created six discompositions, which do have a total running time of thirty-seven minutes. The nightmare-scape opens with Demonic Integration, which sounds like a post-apocalyptic soundtrack, at the same time quite minimalistic and exanimate, yet actually enormously ominous, vicious and horrific. On a layer of haunting and industrialised yet monotone darkened droning ambience, the hideous, malicious and wretched voices (subtly represented at the background) reveal a mostly terrifying, asphyxiating vision of abomination and abhorrence.
Insorcist Will is less 'nihilistic' in sonic approach, with a rather layered execution. Here too that heinous throat acts like the evil companion of unearthly, infernal, inauspicious sub-bass drones. In some way, this anti-lullaby lacks colour, veiling the whole concept in a suffocating mist of impenetrable darkness. I said it wouldn't be easy-listening stuff, didn't I. yet still, it is so intriguing to get penetrated, mentally, by an almost ravishing opacity.
With Tiamat Skin, the you will surely experience the afterworld after the all-destructive battle of ancient deities, including a decaying oppression in some Lovecraftian manner. Slow, low-tuned and doomed, yet oh so rich; in a masochistic way one cannot but crave for being part of this malignant disruption.
Angra Mainyu starts with mantric throat-singing, and compared to the other elegies, this piece is the most, eh, sacral and meditative one (horned and grimly looking smiley included). It is like a frenzy hallucinogen, translated and channelled through eerie drone frequencies, some additional percussion elements, sepulchral synth lines and those evil, repulsive screams.
Much more floating, even transcendental in nature, is Apocryphal Truth, being long-stretched, minimally-industrialised, intoxicating and abyssally obscure. Noisy drones and, once again, Lovecraftian ambience are represented in a symbiosis that breathes sulphur and putrefaction. In some way, this piece has something ritualistic and mysterious, as if it wants to reveal a forbidden spell, or to open the gate to a dimension never to enter.
The last composition, which is the title track, also comes with some darkened ritual vibe and that aforementioned post-apocalyptic attitude. The track secretly builds up, slowly yet convinced, from an ill-omened and creepy basement to an eruptional wall of tremendous noises and paralysing sounds.
Or in short: Black Ambient of the highest order, Black Ambient at its finest… A masterpiece for the brave-hearted and the dark-minded. Nothing more to add…
https://cycliclaw.bandcamp.com/album/sepulchral-blessing
https://www.cycliclaw.com/releases/clavicvla-sepulchral-blessing-cdlp-144th-cycle
https://sentientruin.bandcamp.com/album/sepulchral-blessing
http://sentientruin.com/releases/clavicvla-sepulchral-blessing