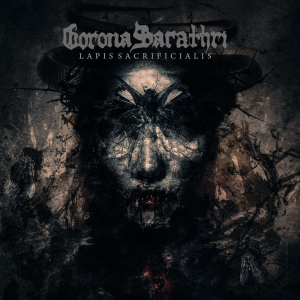 Release Date:
Tuesday, December 21, 2021
This release was released more than one year ago in the meantime (it got prepared a while ago, but I just forgot to finish and publish it), but I couldn't just ignore it. Due to circumstances in 2022 I haven't been active for a long time, but even 'older' material that deserves all additional support and promotion, will be taken care of by yours truly.
This review deals with Lapis Sacrificialis, which is Latin for 'sacrificial stone', and it was the last recording which included Andrey Kein, who unfortunately passed away at the end of 2021. He and his spiritual brother Ilya Affectvs did record this album during different sessions and seances in 2018, 2019 and 2020. Lapis Sacrificialis is divided into four parts, which are, as usual, quite lengthy (in between seven and thirteen minutes), clocking about forty minutes. They all feature notorious, same-minded artists (I'll come back to this immediately…) as guest. Mastering, for your information, was taken care of by Kein.
Liberation of an ancient witch's soul sealed in stone. Now she is free. Forever in darkness.
The album opens with Domus Spiritus: Mysterium Astrigae (08:25), which features vocal assistance of Jessica 'Moon Chalice' Luna aka Chthonia. This is not their first collaboration, by the way. Anyway, this evocation of an ancient spirit characterises Corona Barathri's ability to mingle ceremonial sounds with a dark-narrative attitude. Haunting textures at the background get joined by martial drums and other percussions, weird additional sounds, and both female and male voices. The female ones are the witch's, free from her eternal chains, reborn in obscurity and discomfort. The male ones are deeply invocative, guiding the dark spirits into the eternal night. Sounds of wind and water, rumbling waves of sound, horrific fragments and dungeon-like noises are mingled into an oppressive and, at the very same time, seductive experience.
A witch is calling to the Black Heart standing by the funeral pyre… With her blood, mortal flesh and bones, she feeds the blazing flame… It burns everything that is human and divine.
The second opus, Ad Rogum Supremum, clocks almost twelve minutes, and features voices by Darkarma (she was part of the Karne line-up, by the way). Crackling sounds, a heartbeat-like pattern and somewhat fairylike yet bewitching chants set the tone for a journey that crosses ancient dimensions of sacrificial majesty. Soon (acoustic) strings and mysterious synths take over the direction, step by step added by eerie sound-manipulations, mystic percussions (chimes etc.) and sacral keyboard-lines. Shamanistic and ritualistic elements get introduced, strengthening the fiendish ether in which this whole experience gets drenched. The whispered and softly-spoken voices create that meditative yet asphyxiating aspect of diabolic sardonism (the French language might add a certain mystic surplus, I guess). At about half of this requiem, some electric guitars join, heavily droning yet still harmonious, before the vocal timbre morphs into unholy dimensions. Supported by the shrieking noises, it evolves into a hymn of purgatorious kin. Here too, towards the end, archaic-oriental aspects fortify the secretive mood, leaving no sparkle of humanity or divinity.
The call to Astaroth. Revelations coming through the Breath of Darkness. Sinister Wisdom granted to all unholy souls. Insanity for the children of the Earth.
Astaroth Sapientia Summa (thirteen minutes of length) was conceived with the (great) Greek project Martyria, while the vocals are performed by no one else but Adaestuo's Hekte Zaren (Harpya Xul). Unescapable doom and despair get defined through an aural execution of demonic and enchanting voices, while eerie passages of unworldly movements accompany this macabre spectacle. After four minutes or so, ghastly electric guitars are like a means to open the portal through which the Grand Duke of Hell might enter the realms of the mortals. It's there to spread woe and despair to all creatures of the Light, and to devour innocence and virtue. Haunting resonations echo through, while painting abandoned landscapes, and pillars of bone and skull. The magnificence of the unlight, fed by black flames, alleviate the pain of transition into eternal void. Astaroth Sapientia Summa brings that wisdom to the darkest of spirits around.
Descent into the depths of the Dark. Into Tartarus. Homecoming.
The album ends with Terra Tenebrosa (07:06), featuring Germany's Nam-Khar. Industrialised soundscapes and droning glooms get channelled into the sound of dim realms from the Netherworlds, while wretched violins, strange flute-like harmonies, shamanistic snare-drums and noisy synth-manipulations get combined into a confusing, uncomfortable amalgam of bizarre feelings and intentions (and pleasure for the brain and the ears, as listener). Cinematic in essence, this last canticle exhales both acquiescence and insurrection.
For the physical release, Corona Barathri signed to the magnificent French label Cyclic Law, resulting in a six-panel digisleeve-CD, printed in an edition of 300 copies. The truly splendid (cover) artwork  was done by Bahrull Marta, known for, eh, explicit portrayals and images.
https://www.cycliclaw.com/music/corona-barathri-lapis-sacrificialis-cd-175th-cycle
https://cycliclaw.bandcamp.com/album/lapis-sacrificialis
https://corona-barathri.bandcamp.com/album/lapis-sacrificialis-cyclic-law-2021
https://www.youtube.com/watch?v=VZilbKTOZLQ
https://www.concreteweb.be/reviews/corona-barathri
https://www.concreteweb.be/reviews/corona-barathri-0
https://www.concreteweb.be/reviews/corona-barathri-1
https://www.concreteweb.be/reviews/corona-barathri-2
https://www.concreteweb.be/reviews/corona-barathri-melek-tha
https://www.concreteweb.be/reviews/corona-barathri-paranoia-inducta
https://www.concreteweb.be/reviews/corona-barathri-emme-ya
https://www.concreteweb.be/reviews/affectvs-lamia-culta
https://www.concreteweb.be/news/andrey-kein-rip