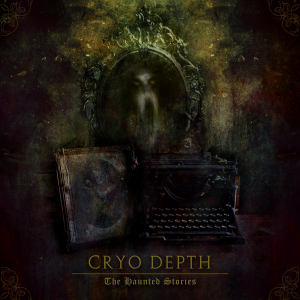 This album does not deal with the heroic warriors from Snake Island (got it?), but it is a new effort by a solo-outfit of Olga Kann, called Cryo Depth. I have been extremely impressed and overwhelmed before by her creations Alarm Call 1986 (dealing with the nuclear disaster in Chernobyl) or Monolith (FYI: both have been reviewed by undersigned; in case of interest, click on the link below). So, I was quite enthralled when she did finish a new recording, called The Haunted Stories.
The concept, dixit Olga, came out spontaneously. Everyone has, at least once, visited a place that causes anguish, awe, discomfort. An old and dilapidated house in the woods; the ruins of a forgotten chapel; a moisty bunker; the murky, echoing dungeon in an ancient castle; the dusty attic of an abandoned mansion. Spirits may dwell around – or not – but memories float by, unseen and unremembered. The sounds you experience when walking through the empty room, the smell that penetrates your nostrils, the shape of old furniture, the glimpse of branches before the room, ominously making noises on the broken window, the icy wind caressing the skin of your face; it all results in a confrontation with scarifying memories and even a sense of claustrophobia and asphyxiation. For many years, Olga was collecting and recording ambient sounds from this kind of places; places that for her, personally, called up uncomfortable moments, the remembrance of irrational yet sensible dread.
Eventually, almost therapeutically, her quest resulted in this newest album, aptly called The Haunted Stories. It's an effort that consists of three individual and diversified yet strongly related 'songs' (whatever you will call it), clocking not less that seventy-five (!) minutes. It is about, and I'll take a quote from the Bandcamp-page, 'stories of once living people, told through the prism of forgotten old things. Experiences and memories of bygone days, hidden in the far corners of the soul' …
The Haunted Stories opens with Forgotten Typewriter In The Old Attic, which last for not less than 33:14 minutes. The idea behind it is what that typewriter has been 'telling' in a far past, 'a typewriter on which no story will be written' anymore. Notes, personal reflections, technical reports, fictional or poetic ideas, whatever. The typewriter has no purpose anymore, unless evoking memories guarded or veiled in the soul. It starts with an ominous noise, like a distant thunder, and soon things grow into purely claustrophobic proportions. Sensations of irrational fears get translated through permanently evolving layers of sound-manipulation, vibration drones and ghastly rumblings. Additional hints of percussion-like details, suggestive samples; step by step this 'composition' crawls further, twisting and confusing. Via audible manipulations, this haunting piece accompanies the listener beyond universal dimensions of reality and objectivity. It permanently enthrals, climbing up towards extasy near the end.
Dusty Photo Of Someone Beloved Child (21:41) refers to 'the face on photography which is no longer remember[ed] by any living person. Oblivion and transience, the futile weight of existence, the lapsed sense of life and death, it all gets translated through an intrinsically calmer yet at least as bleak and murky interplay of floating soundscapes. This track has a rather ritualistic identity in sound, covered in a mysterious, otherworldly gloom of alleviatory ambience. It's almost like a contemplative symphony, this Dusty Photo Of Someone Beloved Child, for this semi-monotonous composition has an opiating effect. Long-stretched waves of semi-necromantic, sorcerous and almost thaumaturgic origin result in a moony incantation that captivates and astounds. The soft-metallic-alike additions as from the second half lift the whole up to even more oppressing spheres, immemorial, impregnable and elusive.
This eerie sonic journey through the darkest corners of our Inner Eye ends with the 'short' composition Scratches On A Broken Mirror, clocking just over twenty minutes. As from the start, it does show another approach, for the atmosphere paints the sky in the darkest shades of white (hehe). There's more mechanical finesse behind it, soon penetrated by horrific orchestrations and industrialized cinematic bombast. This disturbing piece deals with that old 'mirror that forgot its former owner and the new one will never look into it'. The core of trepidation and agitation, almost like the soundtrack for some cult-horror movie in black-and-white, gets materialized through pompous layers of oscillating thickness and exuberant creepiness. It's like a monolithic wall of sounds, mercilessly yet, at the same time, steadfastly shattering any sense of fragility or sentiment. It climbs up, never fading away despite moments of deceleration, up to astral territories of total disturbance and disbelief.
It is incredible how Cryo Depth succeed to write and perform a mental film-score to express inner fear, to refer to forgotten yet reappearing traumas and confrontations with oppression and silence. Despite being such lengthy 'adventure', The Haunted Stories seeks and finds in-depth observation as from the beginning until the very end. This mixture of Dark Drone, Black Ambient and Ritual Noise, or whatever you want to label it as, turns out to be a monumental score for divulgation of the mind – and for satisfaction of the mind (the harkening part, as you wish) as well…
The Haunted Stories is, of course, available via the modern digital sources, but Cryo Depth has been pressed on a physical edition too, being a compact-disc version, signed by the artist herself. Check it out!
FYI: Olga is also the woman behind the fantastic Symphonic Black Metal act Withered Land and part of the Bleeding Malice line-up. Besides, she is a great visual artist, known for artwork for bands / projects like Raventale, Stellar Void, Engraving Infinity or Monumentum Damnati, amongst many others.
https://cryodepth.bandcamp.com/album/the-haunted-stories
https://www.concreteweb.be/reviews/cryo-depth
https://www.concreteweb.be/reviews/cryo-depth-0
https://www.facebook.com/CryoDepthDarkAmbient/
https://www.instagram.com/cryo.depth/
https://www.concreteweb.be/reviews/withered-land