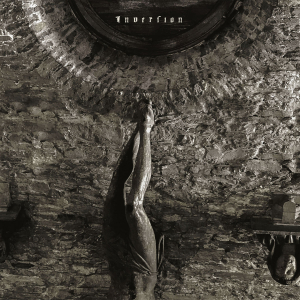 Curse All Kings is a young project by Rob Fisk aka B.S.s., whom you might know from his outfit Common Eider, King Eider in the first place, and some Psych / Indie Rock bands with international fame as well. At the very end of Autumn 2020, Curse All Kings released a first full-length, called Negation, via Berlin-based Breath Sun Bone Blood, which is a label run by Rob in collaboration with Stille Volk / La Breiche / … member Yann Arexis. They both share the album (or is it 'side-outfit'?) Egrégore too, by the way.
Inversion is the second Curse All Kings album, being released once more via Breath Sun Bone Blood in partnership with Cyclic Law. The latter did release some Common Eider, King Eider releases in the past, so this is not a totally new collaboration. The physical release is a limited (300 copies) compact-disc packaged in (oversized) A5 gatefold format, which includes a twelve-page booklet. It comes with explicit yet intriguing cover artwork and consists of four extremely lengthy compositions, or 'extended arrangements for viola, organ and voice', if you want. These four creations are varying from ten minutes to more than half an hour. The total running time clocks over seventy-two minutes (!).
The four pieces on Inversion, The House Painted Black With Ash And Blood (16:02), The Sadness Of Imagined Ghosts (10:35), Mansions Of Silence (10:12), and A Meditation For Inversion (35:38), are, in a wide sense, collected out of long-stretched and ultimately haunting drone-scapes, hypnotic and gloomy, cold and lightless. The better part gets structured around floating, dense waves of bleak ambience, slowly oscillating while surrounding the naked essence with a poisonous fog; the latter being created by subtle, little high-pitched noises, distant metallic sounds, and macabre, somewhat voice-like, murmurs.
The opening piece (The House Painted Black With Ash And Blood) is the most harmonious one, nicely connecting melancholy with enlightenment, and injecting the most spectral approach of Dark Ambient with the chimerical sentiment of Winter Synth. Towards the end, when the sound of Arctic winds joins, things turn darker and icier, like those sunless days on a pole's winter-day; and especially towards the end, when everything fades away, just leaving that mesmerizing organ melody, my exhaled breath turns into sharp yet delicate pieces of crystalline fragility. The Sadness Of Imagined Ghosts has a more dark forest-like atmosphere, like some spooky transcendence in an abandoned country house. There are more hints of industrial finesse, creating a claustrophobic sense of horror-like suspense. Mansions Of Silence, then again, delves deeper into the mysterious dungeons of an ancient cathedral. Almost divine, strongly hypnotic and invocative synths crawl and float, while ghastly, evil-spirited whispers breathe long forgotten secrets and obfuscated spells. It might refer to the more occult side of the obscurest Dungeon Synth sub-genre. The extremely lengthy composition A Meditation For Inversion is the most peripheral one, the most ethereal, and the most illusory, because of its seemingly unadorned structure. Doomed yet lengthy waves of hidden euphony grow and fade, while rumbling tunes and mumbling sounds hover by. Additional percussions, sinister drones and sermonizing voices (or am I hallucinating) cover the whole in a deep-claustrophobic nebula.
Inversion is a statement. It's the soundtrack for a rite, or beyond that ceremony, focusing on self-reflection, transcendence and revelation, yet seen from a very isolationist, pessimistic, melancholic and even misanthropic point of view. Inversion is a negative narration, an asphyxiating message that confronts us with our futile and destructive nature, 'intended for dark moon listening and ritual'.
https://cycliclaw.bandcamp.com/album/inversion
https://www.cycliclaw.com/music/imgpx3f62hypsej3curse-all-kings-inversion-cd-/-dl-211th-cycle/bsbb010
https://breathsunboneblood.bandcamp.com/album/inversion
https://breathsunboneblood.com/curse-all-kings-inversion/
https://www.concreteweb.be/reviews/common-eider-king-eider
https://www.concreteweb.be/reviews/common-eider-king-eider-0
https://www.concreteweb.be/reviews/common-eider-king-eider-1
https://www.concreteweb.be/reviews/common-eider-king-eider-2