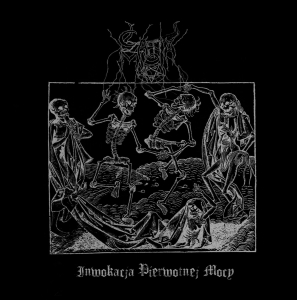 Album Title:
Inwokacja Pierwotnej Mocy
Release Date:
Thursday, January 17, 2019
Czarna magia is Polish for 'black magic', so when I did receive an album from a band with that specific name (I got it from The End Of Time Records' chieftain Dev), I knew this wouldn't be a Pop or Rock album, yet something that might tease me. Well, believe me: it does!
Czarna Magia is, as far as I am concerned, a side-project of Serpent Seed, for it is formed (in 2017) by bass player Jakub and vocalist / guitarist / drummer / composer / lyricist Andrzej 'Balrog' Kosecki (both of them are also in Skald Of Morgoth, which includes members of Deep Desolation / Doomster Reich as well). The duo recorded the Inwokacja Pierwotnej Mocy EP (although, with its length of 31:34, one might not call it an EP anymore???) in 2018, with Balrog taking care of the production and the mix too. Inwokacja Pierwotnej Mocy (which means 'invocation of primary power') got released in an edition of 500 copies via The End Of Time Records, including a black-and-white four-page booklet with the (Polish) lyrics (handwritten) and sober cover-artwork from Michael Wolgemut's Danse Macabre.
Czarna Magia offers us half an hour of primitive Black Metal with a huge Underground attitude. And with 'underground', I like to refer to adjectives like 'old styled', 'primal' and 'no-nonsense', yet as well to 'melodic' and 'timeless'. The five (mainly lengthy) compositions are melodious and rhythmic in structure, with a certain focus on the lead guitars. The latter, however, does not mean that this stuff is a purely string-based one, for that would be incorrect. Yet still, the guitar leads (and a couple of solo leads) are considered the spine of this album. They get heavily supported by a firm rhythm section, with chopping and energetic drum patterns, and supportive bass / rhythm guitars. And then, of course, of importance are the screams by Balrog, being throaty, evocative, conjuring. Once in a while there are 'different' voices, but the better part is raw and grim, and somewhat distinctive from the 'usual' sorts of blackened screams and blackish yells. But hey, it is not that uncommon in Eastern Europe at the one hand, and at the other it does fit exactly to the monolithic and prehistoric instrumental approach.
There is quite some variety in melody yet, especially, in tempo. The better part balances in between mid-tempo and quite fast. Yet there are both faster and slower excerpts too. Once in a while, the speed explodes, with several chapters of hurricane-alike accelerations. At the other hand, this recording contains a couple of slower excerpts, almost doomish in character (cf. Czarna Magia's interpretation of Sen Czarownika, which might be my favourite piece on this album, for being so intriguingly obscure and morbid) – but never giving up the intensity and energy that defines this album.
The sound is raw and unpolished, maybe a tiny little minimally under-produced. I do not consider that an insurmountable 'problem', for this kind of material goes best with a raw and edgy / rusty sound. Besides, I think that the mix, and then I am referring to the equilibrium in between all instruments (+ vocals), is well-balanced. The bass lines, for example, are very clearly audible. Then again, I think that the noisy production and background imperfections could have been avoided. It would give the result an even more impressive format. Yet once again, it is not that bad either, just a modest pity. Something to consider in case of a next effort…
Do not expect something renewing, something that redefines the scene, but do not ignore this material in case you like it dirty, unclean, rough and archaic. Inwokacja Pierwotnej Mocy is worth given a try…
https://czarnamagia.bandcamp.com/releases