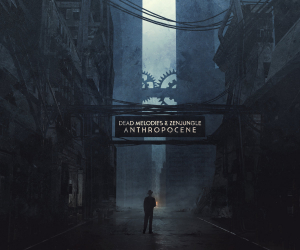 Release Date:
Tuesday, February 25, 2020
Collaborations are a trademark, or better: one of the trademarks, when talking about Cryo Chamber. Being one of the most impressive and open-minded labels within the worldwide (Cinematic) Ambient genre, Cryo Chamber released tens of albums that actually are a partnership of two, or more, Ambient artists from all over the globe. I am not talking about splits, but about mutual efforts, in which different musicians join forces in order to create something new, a symbiosis of their individual craftsmanship, canalised into a unique result. To my modest opinion, all of them did succeed to reach a high level of marvel.
Within their quest to create perfection, this label by Simon Heath (Sabled Sun, Atrium Carceri, ex-Za Frûmi, ex-Abnocto, ex-Knaprika etc.) comes up with Anthropocene, an album created by an artist that is not a stranger at all to the label, Tom Moore aka Dead Melodies, and a Greek musician I did not know (yet), Phil Gardelis aka Zenjungle. Phil did not work with Simon before, I think; Tom did release several albums before on this Oregon-based label.
Anthropocene was written, recorded and produced by both Phil and Tom; both of them mixing elements from their projects into one dark aural adventure. Like almost everything on Cryo Chamber, this release too was mastered by Mister Heath, and once again this multi-disciplined artist took care of the claustrophobic, dystopian artwork as well (Simon is not only a sonic artist, yet a visual wizard too). That cover artwork, believe me, deeply represents what Anthropocene stands for. Far beneath the lofty empire of steel and brick, a perpetual blanket of darkness reigns harbouring mankind's darkest sins. And amidst this grotesque illusion of grandeur, in which the elitist grip ever tightens, the forsaken's demons awake from their slumber wreaking havoc in the eternal shadow. Man's greatest creation and ruin rolled into one in an endless labyrinth of forgotten secrets, unsolved mysteries and stories that are yet to be told. This album is like a soundtrack describing the failure and collapse of society, a sonic translation of some film noir, a portrait of mankind after their fall, for deprivation, prostration, isolation.
Anyway, there are 400 physical copies, available as a six-panel digipack, and it consists of five lengthy compositions, clocking about fifty-two minutes.
Anthropocene is a heavy-weighted soundtrack (not literally an OST, yet you know what I mean), a dark orchestration that defines consciousness and guilt, or loss and grief after awareness and resignation. It gets translated through a mixture of synths and saxophone in the first place. At the core, it is like a symbiosis of long-stretched, dreamy, yet quite oppressive and darkened layers created on synth, combined with melancholic tenor sax, acting like the spine of this somewhat Lynchian-Badalamentian (indeed!) adventure. The opening composition The Book, for example, shows that perfected balance of ominous Ambient and dolorous Jazz Noir. But even though being the shortest piece on the album, The Book shows more than that, with for example the addition of field recordings. And that trend goes on, and further, via the other elegies. Soft-droning waves of keyboard elegance, hypnotic sax and alto clarinet, as well as modestly used yet important noises and field recordings and even some bows / strings (The Lowering is such composition that opens portals and trespasses fragile borders to 'Post Music'-alike spheres) - they all get canalised into an obscure(d) package that simply teases the listener's inner eye (and hey, that 'inner eye' as a discernible metaphor is not a coincidence, for it arouses a certain, specific visualisation for sure; did I mention Lynch before?...).
This album is a very tough one to describe, to translate via words, or sentences. Why? Because it is difficult to put down emotions on paper, especially when you get them, but they are not yours initially. Anthropocene is such example of intensity and overwhelmingness. The album does need several listens, but each time you sort of 'grow into' the concept, deeper and deeper, and it intoxicates, it captures and conquers. And after each single time you experience this five-tracker, you will dive into the depth once again, for the confrontation with man's self-inflicted desolation and inner havoc is addictive. But that is nothing but a poetic description. I would also add that this duo did create a wonderful conceptual album, based on a doomy ambience and dark-jazzy atmospheres, with a lot to discover / uncover. It shows both members' passion and ability to impress, to stun, almost to levitate in meditative trance. Imagine an empty room, with black-and-white tiles and red curtains touching the floor – oops, I was wandering around in a Twin Peaks setting – but that's exactly what this adventurous trip causes…
https://cryochamber.bandcamp.com/album/anthropocene