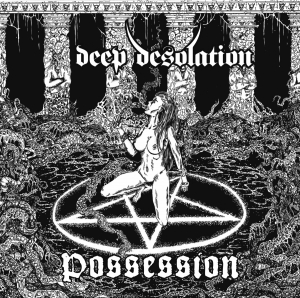 Once again via long-time label The End Of Time Records, and this time in a co-operation with Old Temple, Deep Desolation deliver the successor of the extremely strong Rites Of Blasphemy-album (the review on that album was posted January 25th 2015, though it was initially released in 2012, shortly after their great debut Subliminal Visions). Possession was recorded during Winter 2013-2014 with producer Pawel Drozd at his home studio (and not with Mariusz Pikor this time). The five tracks clock more than forty five minutes (four of them last in between five and eight minutes, the last one clocks over eighteen minutes), which is, once again, a characteristic for this, well, let's call it an 'eccentric' band.
As we're used to, Deep Desolation deliver a quite strange blend of Doom and Black Metal. Every thirty seconds, there is something else to experience, and this goes for all pieces on Possession. There are hints of both Traditional and Epic Doom (riff-wise), Traditional and Epic Black Metal, second Wave elements and modern details at the other, both groovy and sludgy structures, Doom-Death alike elements, Post-oriented excerpts, dissonance versus melody, quite diverse vocals, both melodious, melancholic, progressive and victorious angles, a wide scala on different tempos, including unexpected hooks and breaks as well as classic tempo-changes, injections with fierce and thrashing, then again crafted and melodic fingerspitzen guitar solos, … Oops, I tried to sum up some sonic aspects, but you see: this list has not come to an end yet, so it would bring us too far away from the present, and that's the experience of listening to this album.
There are so many facets and dimensions behind the initial structural compositions, as mentioned in the former paragraph. That's not enough, if only the result implements some necessary elements: cohesion, conviction, professional play and an own face. I guess Deep Desolation once again succeed to accede those aspects. And on top of it, Possession comes with a sound quality that carries the flag of victory. It has been neatly produced, yet without losing itself into clinical decency. And all these superior details are joined together in the album's highlight, being the closing track Divine Dance (as said, the one that clocks nearly twenty minutes!). Besides, Possession is the most experimental Deep Desolation album to date. Whether that's a positive evolution or a disappointing aspect, that's up to the individual preferences of each listener. Fact is that, in any way, this band stands out from the 'average' and that must be appreciated.