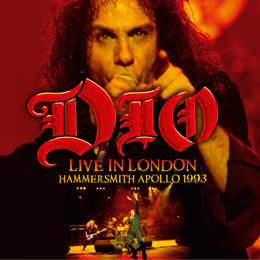 Album Title:
Live In London Hammersmith Apollo 1993
To say this album contains some of the best Dio songs would be an understatement.  'Stand Up And Shout', 'Don't Talk To Strangers', 'Holy Diver' to name but a few of his own songs.  Besides those there are also Black Sabbath covers, like 'The Mob Rules', 'Children Of The Sea',  and finally also a Rainbow cover 'Man On The Silver Mountain'. This is, of course, no more than logical, since Ronnie has been the frontman in all of those bands. Obviously record companies want to make money, so Eagle Rock have delved up the recordings of this gig, which happened on December 12th 1993 in London' s Hammersmith Apollo.  At this time the band consisted of Ronnie James Dio, Jeff Pilson, Vinnie Appice, Tracy G and finally  Scott Warren.  But if you want some sort of compilation of Ronnie's career, then this is a good album for you.
I've written a combined review for the CD and the DVD, since the songs on it are the same. Both containing 18 tracks, one of whom is a drum solo. The gig must have been quite good, and for recordings that go back thirty years, the quality is astoundingly good. both of the video footage as of the sound recordings.  So, despite not being an avid fan of live albums, I quite liked this one.