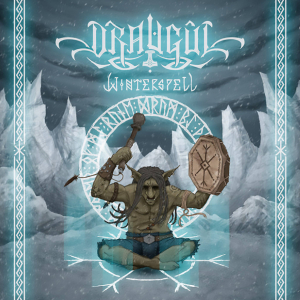 The Mediterranean island(s) of Malta are not exactly a 'big' country within the international Extreme Metal scene. However, it houses some cool bands and projects. A quite productive musician from Malta is Mark Azzopardi, known from his activities in e.g. Martyrium (which he left a while ago), Khaospath and Draugûl. A couple of years ago, however, this artist moved over to Sweden. Recently, by the way, he also joined forces with some Swedish musicians to form the band Myronath.
Under the Draugûl moniker, Mark, aka Hellcommander Vargblod, recorded four full length studio albums (the first three being released via Pesttanz Klangschmiede), and apparently there was a very limited EP in 2019 too, besides a split with long-time label-mates Antiquus Scriptum (consisting of cover songs that inspired both projects) (both these latter, by the way, via Wolfmond Production). This review deals with the fourth full-length, Winterspell, which wasn't released via long-time curating label Pesttanz Klangschmiede but brother-in-arms label Vegvisir Distribution.
Winterspell was released on digipack compact disc in an edition of 1,000 copies (besides the digital edition). The physical release comes with a twelve-page booklet, which include the English lyrics (there's one in Swedish too). All photographs (except for one?), and indeed the pictures are enormously attractive, are courtesy of the commander of Hell himself, while the fine cover artwork was done by Dominik at Wappenschmied. Winterspell consists of ten pieces, amongst which a traditional song and one cover track, and it has a total running time of fifty minutes.
What Hellcommander Vargblod brings with Winterspell goes on in the vein of all former Draugûl material, at least stylistically seen. But there are differences too. The main basics remain comparable. This material is extremely harmonious and melodic. Everything is created around a spine of tremolo riffing, which do have a truly epic character. I see warriors, combative and fearless, preparing for war, or drinking mead in a great hall after a battle, paying tribute to the ancestors, the forefathers. Kids are running around with wooden swords, playing war, while beautiful long-haired women… Oops, this Music makes me poetic, it makes me dream of ancient glory and pride.
No, seriously, the whole concept accompanies to that picturesque landscape I somehow described. Draugûl create a form of Folk / Viking / Pagan / Battle / Black Metal with so much to experience, yet above all with that mostly convinced, proud and epic attitude. That's the essence of my former paragraph. And this gets easily translated in a respectful tribute to J.R.R. Tolkien, whose excellent works have a great importance in this sonic story. Hail victory!
There is a huge variation on so many levels. Take the speed and intensity, for example. Some pieces are fast, fierce, blackened, warlike, full of energy, of persuasion, of combativeness. Other excerpts are the opposite: integer, slower in tempo, consented and reflecting in a brooding way. And you got everything in between as well. The whole sonic adventure called Winterspell brings this vast variety. While several parts overwhelm, like tumultuous thunder echoing in a valley, others return to the essence, making use of acoustic guitars and flute.
From vocal point of view, there is an enormous variety too. The better part are enormously raw, grim blackened screams (and for what it is worth: they're just great!), and quite important too are the harmony chants and choirlike singing. This is not new, but it does characterise Draugûl's essence for sure. The addition of female vocals is not new either; like before, Katia Azzopardi contributes as female guest vocalist, and she does a fine job once again. But hey, throat singing and spoken words, well brought at the right times; it shows a very mature and professional view.
Further: mouth harp, martial drumming, acoustic parts, synths, well, there is so much to experience on this album. And this easily brings me to the next statement. I did like all former stuff for sure, and I could somehow, excitingly, appreciate the undeniable inspiration / influence by mighty Bathory. Quorthon inspired hundreds of artists / projects / bands, and that is not different for this act either. But the great thing is that Draugûl sort of developed, more than before, into an outfit that surpasses any former effort by elaborating a very unique, own-faced sound. Okay, the bathorian elements are still represented, and you might even 'dissect' elements from the whole Scandinavian and Baltic scene, if you want to (and there is nothing wrong with that, of course). But the continuous evolution of this project's Aural Art is such great ascertainment - besides the variation, the honesty and elegance, the conviction and persuasion, the great song writing (even that Inkubus Sukkubus-cover, the somewhat symphonic-ambient outro and the traditional lullaby Byssan Lull sound great) and performance skills, the inspirational sources ranging from 'traditional' Viking Black Metal to devoted Tolkien worship, and the cool sound quality.
And this brings me easily to a last point of importance: that quality of production. Believe me, the production is very decent, very well balanced in mix, and focusing on the totality rather than individual elements. The result surely (and luckily) is not too neat or too tidy, and a certain impurity - or is it roughness - somehow remained, strengthening the valiant concept of Winterspell.
https://vegvisirdistribution.bandcamp.com/album/winterspell-digi-cd
https://www.concreteweb.be/reviews/draug%C3%BBl
https://www.concreteweb.be/reviews/draug%C3%BBl-0
https://www.concreteweb.be/reviews/khaospath-1
https://www.concreteweb.be/reviews/khaospath-2