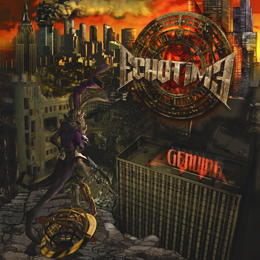 Release Date:
Sunday, September 29, 2013
Part of that package from Italian promotion agency Atomic Stuff (see also reviews of SilentLie and Hypnotheticall, posted 22/09/2013), I found but little info on this Italian Prog Metal band, except for the facts that it consists of lead singer Alex "Kage" Cangini, guitarist Andrea "Bana" Anastasi, keyboardist Filippo "Phil" Marignano, bassist/ backing singer Stefano "Ego" Antonelli, and drummer Federico "Face" Fazi, and that Genuine is their debut album.
Further info reveals that the band (hometown unknown) has taken influences from Dream Theater, Symphony X, Kamelot, Queen, Ronnie James Dio, Jorn Lande, Pain Of Salvation, Circus Maximus and Winger, but tries to create a sound both personal and different from the Progressive and Metal cliché, by contaminating it with elements of Pop, Rock, Latin, and Funk styles, with further influences taken from soundtracks of action and adventure movies. The band also pays attention to its show, for which they dress up in costumes which are for the most part somewhat retro. They even have a rabbit mascot (which reminds me somewhat of Alice In Wonderland, you know) named Emit.
The band's debut recording (which was mixed and mastered at Domination Studio by Simone Mularoni – where hàve I heard that name mentioned before?) is a concept album, set in an imaginary town-state called Leadtown, which is however a metaphor for the one we know (with all its elements of vice, inequality and hypocrisy). Preceding to the album's story line, we find this chemist named Daniel, whom discovered a molecule which he names "Genuine", and which, in the hands of the right people, might make life easier for all people on earth. However, as can be expected, sómeone in power doesn't exactly like that idea of equality-for-all, and had Daniel imprisoned in a desert jail. And this is where the album's story starts: Daniel has been in his prison for years asking himself all the time why this happened to him when, all of a sudden, this character Emit emerges from out of nowhere, and gives Daniel the chance to change his life and the fate of the city, which over time got through some very dark alterations. Carried through space and time, Daniel is transported out of the jail, to a spot near Leadtown. Here, Emit changes his role into an observant one, while Daniel himself goes back through the events in an attempt to find out whom was behind his future imprisonment. Bit of a time paradox, really, but it's a great story indeed! The music which was made to support this story, is at times truly bombastic, but there's also much calmer passages, which bring in the necessary breather moments. Vocally, things are almóst perfect, with the lead singer displaying a clean and relatively mid-high pitch which is however not devoid of warmth. The backing singer occasionally brings in harmonic parts, but also gets into a growled mode here and there (not as a rule, though), and the only mistakes the guys made, really, are the couple of spoken word passages, wherein the "actors" display a truly terrible Mediterranean accent!
It's a pity, because otherwise the album has a magnificence about it which would normally compel me to nominate it for the year-lists! Now...well, anyone picking up the album will have to make up their minds on their own, okay! To listen to two songs off the album (which has total of 18 tracks for a near 50 minutes of playing time, and is in fact divided into 4 main scenes), surf to the label's website (www.) logicillogic.net, where you'll find the band's 2 songs in the music player, among songs of each release on the label.