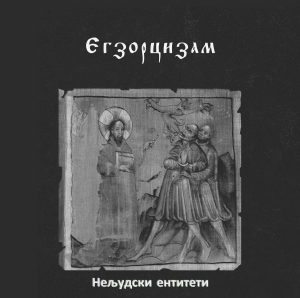 I was kind of sad when I read that Depression Embrace would stop all activities. Poland's finest Gates Of Hypnos recently released the last Depression Embrace album, being a compilation with almost three and a half hour of darkened ambience. And I am not sure whether Glog is still active, for this project recently released a compilation with all former material, all in once. Nothingness and Three Moons (also with a huge catalogue being compiled very recently) have not been active for a while either (seen their past productivity). Yet then again, I am pleased with the rich activities lately by The Filthy Nebula (a review on Psalam [and / or another one?] will arrive soon) or the new project Raw Wastelands.
Why do I mention all this? Well, actually, all of these projects (and some more, I guess) are outfits by Serbian Ambient master Nikola Antić. It's this artists too that acts behind the moniker Eгзорцизам aka Egzorcizam, which means 'exorcism'. And that moniker says a lot, for indeed this project deals with rather religious themes and concepts. It's a very young outfit by Nikola, with (if I am not mistaken) two releases until now: a split with Katakombnaya Tserkov' (another magnificent semi-religious project, this time from Russian soil), and the four-tracker Neljudski Entiteti (which this review will deal with).
This recording was initially digitally self-released on July 1st 2022, yet it saw some additional sources of distribution: August 4th via Yevkharistiya (a stunning label totally dedicated to Christian / Orthodox themes, which houses several recordings by Nikola's other outlets), October 13th by Gates Of Hypnos (run by the great Przemysław Grochowski, and also involved with other releases from this Serbian musician), November 4th via SickheadreC (don't underestimate this label!) and December 3rd through The Church Of Noisy Goat (another stunning name within the scene). And in the mean-time, there's a physical edition too, although extremely limited, i.e. a compact-disc version (including an eight-page booklet and a poster), done by Greece's E.C.T. Records.
The length of the four 'songs' on this album varies from five to eighteen minutes, clocking more than forty-seven minutes in its totality. The titles are in the main member's mother tongue (Serbian indeed), but thanks to a translation program (no, I do not speak or understand the Serbian language), they are as mysterious and 'devotional' as the concept behind. And for my and your personal ease, I will use the English translation as from now on.
The first track, with a title that means something like 'Paranoid Frescoes', shows a clear glimpse of what this project stands for. It is sort of based on a collection of haunting, obscure and abstruse synth lines, with plenty additions from sampled sources: metallic objects, (church) bells and chimes, crackling things and other field-recorded elements from unknown sources. The synths come and go, climb up and fade, while representing waves of sound from different angles: meditative, eldritch, mystic, occult, horrifying. Imagine a nightly walk through barely lit corridors of an ancient monastery, with a pale moon veiled behind ominous clouds, a suffocating silence being penetrated by distant yet scarifying sounds, and flashes of movements all around. You feel undead presences floating around; a harsh spiritual vision reflects on your mind. Well, this might be a soundtrack for this nightmarish quest.
With 'Godless Kivot', things go even further, delving deeper into spheres of shade and gloom. Here too, evocative soundscapes create a web of unescapable trepidation, while occult and ceremonial glimpses create a hallucinating, almost stroboscopic orbit (without the flashing effects). Industrial noises and oppressive drones resound through huge, seemingly empty halls, while rumbling and thundering elements create a wretched feeling of psychic claustrophobia. It's an expression of sonic horror through atmospheres of asphyxiating Black Ambient.
'Occult Obsessive Entities' (I think the original title is rather Macedonian than Serbian, for what it's worth) is the shortest one, and rather a mixture of mesmerizing synth-lines and percussion from shamanistic and tribal origin. It gets interspersed by different samples (also vocal ones, if I am not mistaken), and despite its 'shorter' duration (5:36) it stands for a bizarre aural adventure through spheres of Orthodox underground solemnities and rituals. It brings purest hypnosia and bewitchment.
The album ends with 'Vain Prayers', which was Eгзорцизам's contribution on that higher-mentioned split, is a perfect last piece, for it summarizes the essence of Neljudski Entiteti. Here too, ghastly soundwaves and peculiar field recordings are mingled into an intriguing yet mostly frightening experience. But this time everything goes little further, with these miserable vocal samples, those semi-Gregorian choir chants, and the different additional insertions and sequences. Remote keyboard-manipulated flows of confronting introspection interchange organically with pervasive digital additives, while those many, mostly subtly used, extras permanently maze and daze. Undulating 'melodies' drone through vast landscapes of unphysical revelations, and the traditional chants that are incorporated on several occasions strengthen the mystic atmosphere.
Neljudski Entiteti is, in conclusion, a confrontation with reality, a visionary insight on man's essence in relation to higher powers, whether these ones are from an enlightening nature, then again delving into the most morbid psyche. As a soundtrack for this dual inner quest, it's the perfect guide to purest revelation, or to eternal submission and deprivation.
https://gatesofhypnos.bandcamp.com/album/--11
https://egzorcizam.bandcamp.com/album/-
https://yevkharistiya.bandcamp.com/album/--19
https://sickheadrec.bandcamp.com/album/-
https://thechurchofnoisygoat.bandcamp.com/album/--3
https://gatesofhypnos.bandcamp.com/album/r-i-p-d-e-2019-2022
https://gatesofhypnos.bandcamp.com/album/pale-moon-over-turres