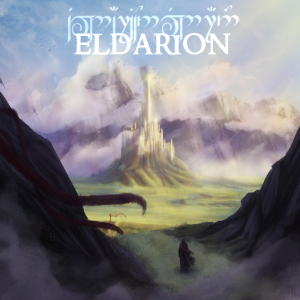 This release is something I just needed to write down my thoughts about. It has two reasons: the concept and the aural result.
The concept, well, I know that Tolkien is quite 'popular'. That's okay, for this writer was one of the most magisterial authors within the fictional genre. But his popularity is often limited to The Hobbit and The Lord Of The Rings. Hey, there's nothing wrong with these novels at all, but J.R.R. Tolkien wrote several other exceptionally marvellous works (once again: this isn't but my personal opinion, so I recognize a subjective statement made). Anyway, that's why I can appreciate this young act, because they surpass these higher-mentioned 'popular' works, for this album deals with other stuff by this author, i.e. the great epic yet tragic story about the hidden city of Gondolin. And purely informative, but this band's name, 'Eldarion', also refers to a tolkienish character, being the son of Mister Aragorn himself. But hey, this review does not deal with the works of this fantasy-writer, yet with a young duo from North-American soil.
Eldarion do hail from Madison, Wisconsin, and consists of two members: Bryce, Son of Gondor (bass, drums and synths, additional sampling and voices, guitar additions and album-mastering) and Derek, Son of Rohan (guitars and lead vocals, lyrics, additional sampling, as well as visuals (in co-operation with Federico Lucidi) and additional drum-parts). Both of them, for your info, are active under different other monikers and in several other bands and projects too. Their debut Gondolin consists of five tracks, having a total running time of about forty minutes. It's released digitally, but I think it does deserve a physical edition too. I do not know whether there are plans for it, but it would be deeply appreciated.
The album starts with 400 Years, which opens with a short Dungeon Synth inspired introduction. Soon everything evolves towards the 'core' of what this duo's Music stands for: an atmospheric and epic form of extremely melodious Black Metal. Before getting deeper into the performance context and the melody-based performance, first a word on the sound-quality. Well, the production is purely grandiose. The balance of all instruments (vocals included, evidently) is perfected in a way that this specific sub-genre needs. The leads are on the foreground, with grim voices accompanying the hypnotic melodies. But the supportive rhythm section is not 'just a background element'; on the contrary, rhythm and bass guitars, keyboards and the whole percussion section are equally represented. The equilibrium surely impresses. Besides, the final sound has a certain roughness – a clinically executed production would make the result sound fake and false – and that unpolished rawness fortifies the epic and heroic identity of the conceptualization.
Somehow, Eldarion's material sounds refreshing, yet it stays loyal to the origins of the scene. No, I won't say that this sounds like some cheap Summoning-clone or so – at all – even though one cannot deny quite some comparable processes and methods from time to time (like some Dungeon Synth / Ambient-laden intermezzos and some specific guitar melodies). These guys, for the better part, sort of developed their own approach. The whole is melodic in the first place, with mesmerizing riffs, tremolo and dual leads, and epic harmonies as main strategy. These differ in speed and execution. That speed varies quite often, without being unnaturally forced. Fast and intense fragments (Lost Tales (The War Of Wrath) is an example of the more intense side, exhaling warlust and victory) go well with slower parts, including occasional blasts at the one hand, and down-earthed doom-chapters at the other. That variety comes with a convinced and deeply-organic attitude for sure. When it comes to the diverse approach in execution, one must recognize the open-minded song-writing and the own-faced yet recognizable textures and techniques used throughout the different songs. The pounding rhythms and harmonic symphonies at the one hand, and the grim, dismal screams at the other, get canalised into – and towards – an undaunted epos of brave and noble classification.
Gondolin is an expression of supreme Blackened Art with a focus on harmony, epicism, ambience, atmosphere, bravery and tragedy; a difficult combination that works very well in this band's case. There is a lot to experience; each listen sort of reveals new details, modestly covered in an overwhelming package of dark and adventurous Epic Music.