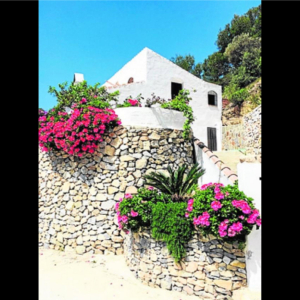 Album Title:
The Customs And Culture Of Andalucía Vol. 1
There are a couple of reasons why I want to focus on this release: the Aural Art, the label, and the content / concept (+ location of recording).
When it comes to the label, well, Triumph Of Kings is a newly started one from Leeds, UK, formed by Peter Beswick; you know, the guy behind projects like e.g. Gold or Carrion, or the curator behind labels like Positive Militia, Xivu Arath Productions or Abstract Trauma Recordings. This specific release is the first (and until now, the sole) recording on Triumph Of Kings, but I guess there is more to come in the future. We'll see…
The concept is another interesting element, at least for me. The Customs And Culture Of Andalucía Vol. 1 was recorded in a small yet beautiful village called Canillas de Albeida. That's somewhere in the inlands of Andalusia, at the feet of the Sierras de Tejeda, Almijara y Alhama, one of the many beautiful nature reserves in that region. It's not that far away from the coast (yet stay away from that mass-touristic area) and pretty close to Malaga. It's a region which I (and my family) did visit a lot (and will visit often too in the near and distant future), appreciated by undersigned because of its breath-taking nature, charming villages and excellent local food. So, this recording brings homage to that region, cf. the cover picture (I guess this must be the most evil one I ever used on this webzine) and the samples (as well as the titles of each aural piece).
The third interesting thing is the Music itself. …although, 'Music' is not exactly a fitting description. I knew this (mysterious, for I have no idea who is behind it) project from a release via mighty Gates Of Hypnos (Squeaks), and this one totally goes on in the very same vein of that former one. The Customs And Culture Of Andalucía Vol. 1 consists of four chapters, referring to the Andalusian music, food, customs and culture respectively. Each of them clocks exactly seven minutes (cf. Squeaks) and have a very comparable 'spine', despite some modest, specific nuances.
The 'core' of each lullaby is build around a very raw portion of Static Noise, brutally penetrated by a Harsh Noise Wall sound. For each 'song', the specific wall-of-sound rumbles forth, unstoppable, like an all-devastating avalanche. But it sort of progresses too, slowly and almost unremarkably, even cryptic and enigmatic, if you want to. This goes for all four of these compositions, being characterized by a sagacious yet delicate evolution. Besides, things get injected by deep-edged drones, piercing industrials and shrieking metallics, and subtle (probably environmental) field recordings. The Music Of Andalucía, for example, contains different fragments from traditional local Music (what else did you think), yet all four these tracks have other samples involved too – spoken words, excerpts from different recordings (like radio transmissions, I guess), and more.
https://triumphofkings.bandcamp.com/releases