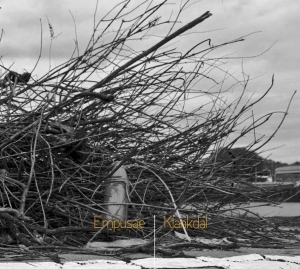 Some math (no meth!) before starting the review: one plus one might be more than two. My sons do not agree, since their teacher tried to convince them that one plus one simply makes two, always, no exception. My autistic half totally agrees. 1 + 1 = 2. I checked it on the web, and indeed, this formula leaves no room for conflict or friction. But still, my stubborn part might be convinced of the opposite.
Joining forces might result in a bigger result; the outcome can be more than just the sum of the individual elements. Here you have it… That sort of was the case in 2015, when Consouling Sounds and Wool E Tapes decided to collaborate, with two of their artists collaborating on a split. Eventually, Monnik and Onrust recorded some (evidently excellent) material that made it to a split-tape, released by both labels mentioned. Why changing a winning team, they might have thought, because both labels now asked two other of their projects to create a second joint (ad)venture: Consouling Sounds invited Empusae to be part of this split, and Wool E asked Klankdal to take the honours. This time the stuff gets released on CD (besides the digital way), and therefor Wool E sort of created Wool E Discs in addition to Wool E Tapes.
The untitled album consists of three compositions by Empusae, and one done by Klankdal, with a total running time of an hour. The visual duties were done by the Brussels-based Silken Tofu crew, with a focus on the symbiosis of 'beauty' and 'soberness'. There were 300 copies pressed on CD, and I guess that, in mean time, the amount of the CD edition might have decreased enormously. So pay attention, and make up your mind, quickly.
Anyway, Empusae is an outfit by multi-instrumentalist and composer Nicolas Van Meirhaeghe aka Sal-Ocin, whom you might know from, for example, Project Arctic, Onus (a majestic project that also includes Peter Bjärgö; their Proslambanomenos must be one of my most appreciated albums from 2016 for sure – I updated the review on April 13th 2016: concreteweb.be/reviews/onus), and his session assistance for great acts like Triarii, Arcana, Sophia, Ah Cama-Sotz, Barst or the TriORE project. With Empusae, Nicolas was even selected to feature on Old Europa Café's Eidolon, a tribute album for Reutoff (review: see concreteweb.be/various-artists-reutoff-tribute).
Nicolas wrote and recorded the three song on this split at the Mortusae Realm throughout 2016. The first one, Reciprocité Du Mélange (means: reciprocity of amalgamation), is the shortest one with its five minutes of duration. But for sure this opener impresses by showing what Empusae stand for: a melancholic (acoustic) riff and a hypnotic (semi-acoustic) lead, joined by dreamlike harmony chants at first, and somewhat tribal percussion in a next stadium… It's like an omen to a dreamlike passage through the Inner Eye, based on ambience and droning tranquillity. Smell Of Drones is the longest Empusae track, and it builds of very slowly, softly and fragile. Distant, long-stretched droning waves of sounds appear out from nowhere, subtly entering the sub-conscious layers of the listener's mind, sweetly penetrating the listener's awareness too. In a very floating manner, Smell Of Drones sort of evolves, not only by adding instrumental elements (tribal / ritual percussions and, step by step, different layers of guitar drones), yet also in intensity, in expression, in atmosphere. The inherent calm attitude does not cause an exploding finale, but for sure there is that prominent creation of a tension, an arousing tension, that intrigues and keeps the audience attentive, despite the length (almost seventeen minutes). The Woods Have Eyes is the most ominous and oppressive track out of the three, and at the same time the most melancholic one as well. In a first phase, there are those depressive piano melodies at the one hand, and these terrifying guitar / synth (?) layers at the other, in a symbiosis creating quite a dark, entangling sonic spectacle. But as from half of the song, things turn heavier, with a heavy drum computer, more energetic guitar riffs and a sound more dense and overwhelming.
To my (quite important, evidently) opinion, Empusae did create a very intriguing show, going deep into introspective levels, with a fabulous result in consequence. It might be somewhat calmer (except for that third piece) and less 'industrialised', yet still characteristic for a master-brain behind such a project.
The fourth track is a live recording by the duo Klankdal, also hailing from the city of Ghent. Glen Dick (guitars and manipulation) and Sebastien Crusener (field recordings, manipulation and drones) recorded this piece in very early May 2016 in a Logos Foundation venue. The lengthy composition (about thirty minutes) is like a continuously progression aural ritual, eerie from the beginning until the end, and therefor quite heavy to carry.
There are many layers, created by bizarre samples and ominous synth lines, manipulated guitar play and additional sounds / field recordings. Monotone fragments interchange organically with darker and ritual excerpts, introspective parts with expressive ones, many a time with a natural, spontaneous and coherent flair.
It's almost unbelievable that this experience has been created in a live setting, because Glen and Sebastien succeeded to have this experiment sound so organic and natural. It surely fits to the sound collages created by Van Meirhaeghe's Empusae, and therefor this split is highly recommended if you're into that kind of Dark Drone Ambient that is not that unknown on Consouling Sounds' roster.