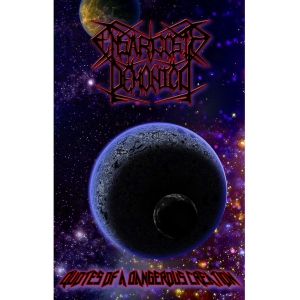 Album Title:
Quotes Of A Dangerous Creation
Release Date:
Wednesday, March 25, 2015
Locust Amber Records are a sub-division of Legs Akimbo, but both rosters differ a lot from each other. While the parent label focuses on Noise / Breakcore / Grind stuff especially, Locust Amber Records has been created to support the Black Metal scene especially, especially via the promotion on (limited) tape editions. This review is the first one in a row of more than ten tapes that will be reviewed and uploaded in the near future.
Ensarcosis Demonica are a Greek band (Panmaxon, Tyfon, Pan and Lykofron) that were formed more than a decade ago, but actually this recording is their first full effort. There were a couple of demos / promos before, and this full length debut consists of some pieces that were initially released on the band's untitled 2009-promo. The cassette comes in a very limited edition, i.e. 25 blue copies, and 25 ones in transparent blue. The quality is extremely professional, with colourful cosmic cover art. The sound quality too is of a high level, despite this edition being released on tape (no recycled material used here).
Anyway, Quotes Of A Dangerous Creation sees the band focusing on fast and energetic, quite melodic guitar-driven Black Metal. The approach is quite universal and traditional in execution, with a fantastic sound quality. Actually, the mix nicely balances, with pounding bass lines, catching guitar riffs, (hammering, little mechanized) drum patterns and vocals perfectly in equilibrium. The voices are pretty raspy and, once in a while, even varying (especially grunty-screaming, sometimes rusty and razor-wire'ish, and added by melodic / harmonious chants too), while the leads are based on both aggression and craftsmanship. The whole maintains a certain epic attitude (especially the slower passages are pretty much that way), though not of the Folk / Pagan / Viking kind, yet rather seen from a point of victorious elaboration and the taking-no-prisoners mentality. Within the solos and a handful of riffs, one might notice a strong connection to the Thrash scene too. For a Greek band, by the way, the result is pretty 'Swedened' when it comes to intensity, but the result is very trans-European (even universal) and timeless.
Finally this. Despite the speed-up tempo and recognizable brutality, there is quite some variation going on. Some riffs / excerpts are close to 'memorable'. Especially side B has quite a lot to offer, though the cassette impresses me as from the very beginning. But then again, one might miss that something renewing, which you won't really find. But does that matter? I do not think so.