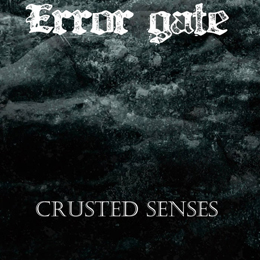 The Russian one-man army Error gate was founded by Rigor in 2010 as Eg, and that's why the current name still gets spelled as Error gate and not Error Gate – I understand that might seem quite irrelevant, yet purists amongst us will surely appreciate this worthy information. Or not… The project does not stand for (excerpt from their own bio:) 'just music; it is the concept of perception of the world, nature, thoughts and consciousness'.
In 2014, after the release of some EP's (Devastating Spirit Of War and Taинственные Ущелья), Error gate released a first full length in 2014, called Water Sun, which consisted of one lengthy piece. Earlier this year they came up with a demo (Radiation, though being released under another moniker, Something from the Fog, and based on apocalyptic Black Metal foundations; it was recorded a couple of years ago, actually). And now we can enjoy the second full album, which does not consists of one single piece only, yet five compositions with quite a differing length each.
Crusted Senses is 'the quintessence of chaotic images and thoughts on some subconscious boundaries. This is noise, which lives in our heads and periodically bursts into our consciousness, causing us to fall through inside yourself in a rattling vacuum' (taken from their Bandcamp's homepage). So, what does this mean? Nothing at first, yet everything as well after having experienced this album for the first time. And after a couple of times things are getting clearer.
Crusted Senses opens with Nativity (seven minutes), which starts off with a screeching and little Death Industrial-injected form of Harsh Noise Wall, somewhat in between Catgirl and Ataraxy, if you want too. But slowly on, the whole transforms towards more ritualistic and hypnotic dimensions, yet the main structures remain the same throughout the whole 'song'. Next comes Train Of Mind (nine minutes), which is less Harsh Noise Wall-oriented, yet rather of the Ambient Noise / Industrial Noise kind: pounding, rhythmic and trance-like, with hints of spacy Electronics. Quite some feedback makes this 'song' able to endure, but with the shorter Red Bones (three minutes of length), that quality gets to its peak. Despite a pronounced minimalism is structures, this sound-wave is this album's first convinced highlight (it's not that I dislike both former ones, but it's as from now on that I am totally attentive!). Added with vocal sampling and sounds from whatever, this sonic mist must please those who do appreciate the likes of Nadek a. o. Echoes Of Ferruginous Mountains is the longest piece with its fourteen minutes of total running time. It opens with some mesmerizing, almost tolkienish melody, as if blown on misty horns somewhere in a desolate valley, trying to warn, and to prepare, for war. It comes closer to the meditative elements from last year's Water Sun than the first three tracks on this album, and I like the contrast with the album's first half in combination with that very same, coherent attitude behind the atmosphere. Tumult, finally, with its two minutes the shortest piece, is a frenzy and schizophrenic Blackened Noise eruption, and despite its short duration a memorable piece to end this album with.
Something worth to give it a try, this Error gate-album, but be warned that Crusted Senses isn't meant for the weak-hearted.