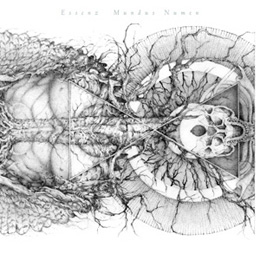 Release Date:
Friday, December 14, 2012
Finnish record label Svart Records are one of the few labels that, lately, succeed to exceed the grey masses with non-commercial yet mostly worthy stuff. A new example of this grotesquery is Mundus Numen, the second full length by German trio Essenz, a band with some Drowned-members in its ranks.
(2009: Metaphysis EP; 2010: debut full length KVIITIIVZ – Beschwörung des Unaussprechlichen, both released through Amor Fati)
Mundus Numen is a fifty-minutes-plus (six tracks only!) Black / Doom-epos with massive riffs (closely related to the likes of Doom-Death and Nordic Black Metal), lots of tempo-changes (extremities from y to z), elements from Sludge and Groove, and a sound + approach in between modernism and (C)Old Skool (and then I'm not just referring to the eighties, yet even to the seventies). Sometimes it's rather Post-Rock-alike subtlety that prevails, then again some nasty, evil Black-edged stench overpowers with malignancy and morbidity. For sure the most extreme band on Svart's roster. The label mainly brings out spacy, psychedelic Folk / Rock records, and then, suddenly, this…
Mundus Numen goes much further for sure. Old School Death and Doom-Death Metal, Black and Doom (as mentioned above), occult Post-Metal, groovy Heavy / Thrash Metal (instrumentally, not vocally), shamanistic Ambient, Funeral Doom, droning Sludge and some industrialised Noise (or is it noisy Industrial); this album goes way beyond normality.
Unfortunately the equilibrium Doom - Black isn't always that perfected, leaving the listener from time to time with a feeling of confusion and unsatisfiable hunger. Nevertheless this recording is, like most Svart-releases, a unique experience, a journey through spheres of The Unknown, dwelling into eternal frost and eternal dark…