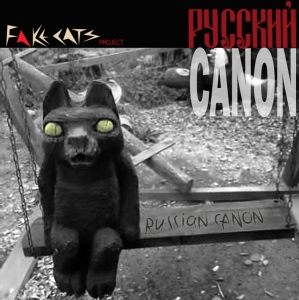 With the band's name, the album's title, and the cover picture, I was afraid I would throw over soon. Fake Cats Project performing Russian Canon (I'm not sure, but I think it's named after a classic composition once written by Igor Stravinsky), while seeing a clay cat with green-marbled eyes on a wooden hammock… No, this probably won't do.
Then again, I noticed that this release came via Frozen Light, and let's be honest: this label has always surprised undersigned with highly qualitative releases, even though more than once largely unusual. Would this trend continue with this album? Well, let's say that I was mistaken with my first impression.
First this: this band was formed as a three-piece in very early 2015. Original members Igor Levchin (vocals, bass, guitars, keyboards, synths), Alexei Borisov (bass, synths, recorder, guitars, drums) and Kirill Makushin (voices, mouthorgan, accordion) recorded, produced and mixed everything on this album themselves; just the trumpet parts were performed by another musician (Konstantin Sukhan). Besides, the band did use quite some samples as well.
Anyway, Russian Canon consists of at least seventeen 'songs', and it's the band's fourth recording, yet the first one on CD, released in an edition of 300 hand-numbered copies. The band states that they are sort of 'searching' for the Russian Canon, instead of performing it, while avoiding all clichés from the Russian scene and, at the same time, playing with it. It is full of contrasts and contradictions, and totally free-style and improvisation. Why not?
Actually, this album is one of the toughest things I have ever reviewed, for this recording is like a weird, mad and destructive collage of Folk, Free Jazz, Psychedelic Rock, Musique Concrète, coincidental sounds, Doom Metal, and so much more. Or not. I'm confused, I do not know… It's like a constant improvised play, like accidental experimentation on 'normal' instruments like electric guitars, bass and synths, unusual stuff like trumpet or mouth organ, and totally strange (traditional) instruments, such as the bayan (a traditional Russian accordion), and baglama (a Turkish string instrument, also known as saz). There's hand clapping, lots of vocal stuff (singing, yelling, vocal samples, spoken words, laughter), live recordings and field recordings, and 'anonymous street singers, baggers and bbq eaters' indeed.
Every title on this album, whether it lasts for just a minute, then again clocking more than seven minutes (indeed there are quite some lengthier compositions on this album), differs from any other, and that might be somewhat confusing, for it's quasi impossible to find the 'spine' of this (remarkable?) piece. But since it is intended to be a twisted and insane experience, Fake Cats Project succeed to confuse! I do like some of the more industrialised Metal-oriented Doom epics, yet I have to admit that the jazzy and / or psychedelic 'songs' too are, eh, let's call it 'attractive'. And sure, the Folk material (20th century stuff) too is fun to listen at. On top of it, this band refers to classic composers too. I did mention Stravinsky in my introduction, but there's a track based on a well-known composition by Satie as well (A Kitten Looks At Soldier's Eyes, a reinterpretation of Gymnopédie), yet then again totally distressed, dismembered and deconstructed in all its beauty and ugliness at once.
Frozen Light is a label that never goes for normality, as you might have noticed in the past, nor do they go for the one-single, straight direction either. That's a surplus. But with this release they even outstrip every concept of sense, of apprehension. This release, well, you'll love it, or you'll detest it. But it is worth giving a try, for there is so much to meet with, so many levels to pass through, and you might be surprised by the ingenious creativity.