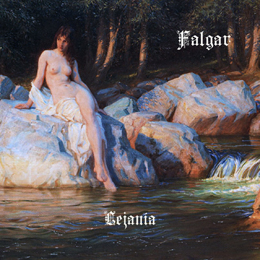 How many bands do you know from Puerto Rico? My knowledge is limited to two hands full of Death and Black Metal combos, with an act like Azmaveth absolutely belonging to my favourites from the Caribbean region (their Strong As Death-album was one of my top-albums in 2008). Well, now I am truly pleased to meet Falgar. I heard of this solo-project of Etienne Goldberg, but I had not heard any of the material before. Russian label Kunsthauch however satisfies my eardrums once again by sending us two full lengths by this project, Lejania and La Dama Del Alba (see update on October 4th 2014 for the review on the latter; actually it was originally released via Nebular Winter). The updated review deals with the second one, this review deals with the first one I mentioned, Lejania.
Lejania was originally released via Latinus Productions on April 21st this year, and re-issued via Kunsthauch as part of their highly interesting Promo Series (though in an extremely limited edition of fifty copies only). It was recorded in 2013 in Vermont, U.S., and comes with beautiful cover artwork, a painting called The Kelpie by Herbert James Draper.
When it comes to the aural side of this disc, you can partly expect a comparable result, and partly the opposite. This album has not one single element that betrays a Black Metal-based idea, with exception of the dense, grim spheres, I guess. But gone are the bleak, abyssal Black-outbursts from La Dama Del Alba. I was confused when I noticed, but after a couple of listens I sort of learned to live with it…
Lejania opens with the intro Caballero Andante (which actually makes me warm nor cold), but with Doncella, you enter the same realms as in the non-metalized parts of La Dama Del Alba. Doncella is a desolate, introspective, neo-acoustic and little ritual-hypnotic piece of Dark Ambient which reminds me to some of Mortiis' projects (especially Cintecele Diavolui and Vond, though less suicidally-atmospheric). Ánimo brings a symbiosis of integer Neo-Folk and classic Ambient. And this is the trend you can expect throughout the whole album: a mixture of neo-classical spheres, esoteric Ambient and integer Neo-Folk, mainly instrumental. The track Alexandra, the fifth, is the first and sole composition with voices, clean and somewhat mourning chants that fit well to this spiritual aural ritual.
There is little excitement throughout the album. Each piece (or better: 'each peace') is pretty sober and minimal-nihilistic, with repetitive structures and a desolate, bare execution. Sometimes it works, but in Falgar's case it does not; or at least not the way I expected. The ideas are nice, the intentions exciting, but the final result does not fulfil my expectations.