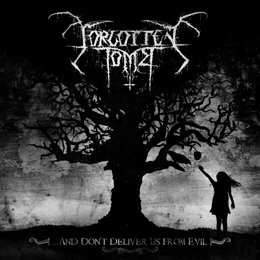 Album Title:
…And Don't Deliver Us From Evil…
Release Date:
Tuesday, October 30, 2012
Forgotten Tomb was formed at the end of last century as a solo-outlet for Italian multi-instrumentalist Herr Morbid, but as from 2003 on, the act turned into a 'real' band. The earliest years were characterised by ice-cold, breath-taking and suffocative Suicidal Black Metal of the most depressive kind, but there was a permanent evolution, with a more experimental approach after a while.
For example, you need to check out 2011's Under Saturn Retrogade, posted by undersigned on May 8th 2011 (see the archives section).
Nowadays, Forgotten Tomb are a quartet, and they did record / release a mini-album earlier this year (called Deprived). This new full length will appear in jewel case, limited digipack (1,000 copies only, with a cover track from Joy Division) and on different vinyl formats (as double 12"; these editions coming with a Buzzov*en-cover as bonus track). It has been recorded again by Daniele Mandelli at his Elfo Studio, and the final mastering had been taken care of at the famous Finnish Finnvox Studio.
All former releases did differ from each other, and of course, what else did you expect, this goes for …And Don't Deliver Us From Evil… too. As a matter of fact, this record might be the most mature(d) and divers Forgotten Tomb-album to date. It contains elements from all former releases, yet again with a very specific, own-faced approach. An image: doomish, melodious, obscure, both eccentric and mainstream, grooving, rocking, … There's a lot of variation (the mutual first seven songs have a total running time of more than fifty minutes, so luckily there's that much diversity), and it comes with a subtle and sublime equilibrium in between the sleazy Avant-garde Rocking from the last albums and the aorta-piercing self-mutilating and ero-torturing grimness of the past.
Recommended if you can appreciate acts like Lifelover, Shining or Alcest.