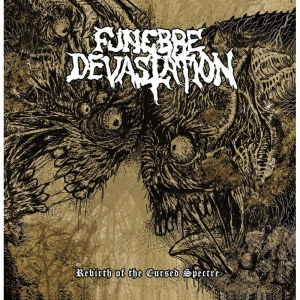 Album Title:
Rebirth Of The Cursed Spectre
Release Date:
Thursday, October 10, 2019
One of the many things I like on Polish label Lower Silesian Stronghold is their quest for new 'talent'. On their roster, they house quite some artists / projects / bands that are sort of eternally related to each-other. This loyalty is remarkable and must be hailed. Yet then again, Lower Silesian Stronghold do not mind giving opportunities to completely new acts either. And what's more, artificial boundaries are neglectable.
A deep-thought introduction, just to say this: Lower Silesian Stronghold signed Funebre Devastation, and this Spanish act's first official recording got released on that Poland-based Black Metal label. You're welcome…
I did not know Funebre Devastation, but investigation showed that this band is quite new. I said 'this band', not the members. The line-up on their first record is quite remarkable. Okay, on the basses, there is a guy I did not know (yet), being Jose Opposer. The drum parts, however, are performed by no one else but Argus, whom you might know from great acts like Lucifuego and the sweeties of Undernoise. The lead vocals and electric guitars, then again, were done by one of Spain's most notorious (Black Metal) musicians, Erun-Dagoth, currently or formerly also active in, for example, Briargh, Moonshine, Eldereon, Hrizg or CrystalMoors, amongst many others. Yes, we can speak about an impressive line-up for sure. Besides, both Erun-Dagoth and Argus did perform together before, which evidently strengthens the cohesive collaboration.
Anyway, this trio recorded these nine compositions at Erun-Dagoth's famous Khazad-Dûm Studio somewhere in 2018. It was the latter, by the way, who wrote both music and lyrics, and who took care of the production and the layout too. The compact disc, which comes with an eight-page booklet (including the lyrics in English and strange cover artwork by some Enserune), got pressed in an edition of 500 copies (no tape or vinyl copies, if I am not mistaken). And here is my sole (negative) remark on this release: the nine hymns last for nearly twenty-nine minutes, so that is a pity, such a pity. Yet then again, better a release limited in length with a cool professional quality than an hour of purest boredom.
So, Rebirth Of The Cursed Spectre hits and hurts as from the very beginning. Their Black Metal approach is pretty traditional – some might call it 'Orthodox' – but there is nothing wrong with that, at least in case of a decent result. And that is exactly the case right here. What Funebre Devastation bring is fast, rhythmic and thrashing Black Metal with a rough production, a monumental rhythm section, lots of fierce 'n' furious solos and cold, throaty grunts. Besides, there is a fine dose of Old School Death Metal included – besides elements from War and Thrash Metal – and subtly-used (unique) additions like excerpts of Gregorian chants, samples (such as sirens) and a devastating timeless-universal (read: glorious old styled) vibe.
The tempo is fast, with blasting eruptions and a couple of slower moments, and it includes a certain unlimited groove. The less up-tempo parts exhale something deeply morbid, while the faster excerpts reveal a merciless and uncompromising attitude.
I do have one minor point of attention, and that's the sound quality. I always adore a rough production – clinically clean studio work is totally inacceptable – but the sonic result of the Rebirth Of The Cursed Spectre sessions is too plain, too flat, I think. No, I did not say that the sound is bad, for it is not. But I would have appreciated little more elegance and balance. But as said, this isn't but a minor point, and it may not be a reason not to delve into the world underworld!) of Funebre Devastation.
For fans of, well, let's say everything in the vein of Sarcófago, Perversor, Bestial Warlust, Black Witchery, Deströyer 666, Abominator and Bestial Mockery, you know…
Elite and Misanthropy, War and Hate!
http://www.metalshop.cba.pl/index.php?controller=search&orderby=position&orderway=desc&search_query=funebre+devastation&submit_search=
http://www.metalshop.cba.pl/index.php?id_product=6287&controller=product&id_lang=5
https://www.facebook.com/funebredevastation/