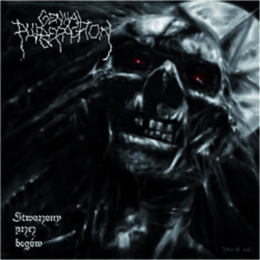 Release Date:
Monday, November 17, 2014
Poland's Genital Putrefaction are a Death Metal band that existed for a couple of years during the era 1989-1992. They recorded three demos (FYI: Chinese (!) label BrutalReign Productions compiled them on CD in 2013 with The Unholy Decade as working title), but then they split up. However, in 2009 the band was reformed, and in 2012 they released their debut full length, Stworzony Przez Bogów. It was recorded and mixed at the Berlin-based GL Studio and produced by Lech Glogowski in 2010. And it gets released via Polish Gruft Prodüktion, a smaller label that started almost a decade ago, but with quite some interesting (and underestimated) releases on its roster.
What firstly strikes me is the language. During the early years, Genital Putrefaction had their lyrics in English, and now they use their mother tongue.
Anyway, Stworzony Przez Bogów (meaning: 'created by gods') consists of twelve (mainly new) songs, having a total running time of forty six minutes. After the short but intens(iv)e untitled intro, we have to deal with unstoppable, hammering Old School Death Metal that focuses on the European scene especially. When it comes to the buzzing guitar sound, I need to refer to the Swedish scene especially, but Genital Putrefaction aren't just some clone from that current at all. These guys do combine the better elements from Sweden, Finland, Germany, Greece, Holland, the U.K., and of course their home country, yet without losing themselves in cheap copycat-alike nonsense. Early Entombed, Grave and Dismember, yet also the likes of Bolt Thrower, Carnage, Demigod or Asphyx are possible comparisons / sources of inspiration, and the final execution comes close, very close to the superiority of the acts I just mentioned. Of course Genital Putrefaction are not renewing, but they don't fall into cheap plagiarism either, by giving an own twist to some of the pieces. And anyway, the quality of song writing, performance and sound is simply great. Most of the time they do not renew or reinvent anything at all (why should they anyway), but a couple of times they bring something extra (like the very short yet splendid introduction with keyboards on Sabbath, which doubtlessly is one of the most magnificent tracks within this specific genre ever created).