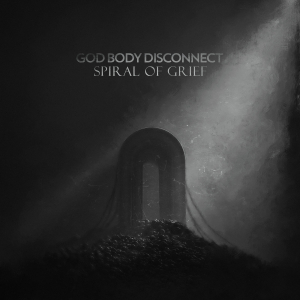 Release Date:
Tuesday, September 20, 2022
God Body Disconnect does it again: creating a soundtrack around confusing questions about mortality and anxiety, about the unpredictability of the consciousness, about the limitations of our being and of our grip on reality and existence. I'm lost. I can't find who I am anymore. The threshold of sanity has been crossed so many times, I don't know if I'll ever make it back. […] I've been there before, and I don't ever want to go back. But, the wolves of hell have been sent to devour me, and there's no calling them off. I wonder how long I can Last… It's the journal of a lost person, searching for answers on questions unspoken, and answers unanswerable.
The story of Spiral Of Grief gets narrated through ten chapters, having a total running time of more than fifty-two minutes. It's a tale of surviving, of self-reflexion, and of mental sanity, a quest for the Inner Eye, trying not to drown, or not to disappear into the fathomless abyss, into oblivion, into fading lucidity.
The spoken introduction The Furthest From God (not purely spoken, for it comes with post-mechanic digital sound-manipulation too) acts like a teaser for what's next to come. Shortly after, long-stretched dronescapes float on and by, with multi-layered keyboard melodies and mesmerizing structures permanently evolving and morphing. It has a sense of melancholy, of introspection, of integrity; of haunted desires and darkened memories too.
These spoken words do reappear throughout the whole album. The vocal timbre has that vailed, almost apathetical tone, despite a certain warmth and a very attractive pronunciation; the latter almost bewitching, forcing the listener to absorb the message, despite a certain frustration and disgust.
Sound-textures on synth and strings get accompanied – read: enriched – by samples and field recordings, both from natural origin (like water or distant voices) as from digital sources (bleeps and the likes). Some pieces breath the astral essence of Cosmic / Cinematic Ambient, injected with subtle, and therefor elegant, elements from Mystic Doom and Dark Drone, then again created around haunting, eerie waves of mesmerizing nature; others are definitely rooted in the naked, and in the purest heart of Post-Rock-laden flavour, sometimes with a bleak, melancholic character, then again turning towards a Shoegaze-like elegance. An implicit Film Noir character cannot be denied (the semi-poetic track In Search Of Souls might be a fitting sonic definition of this statement I just made).
The most amazing aspect is that Bruce aka God Body Disconnect is able, once more, to translate a heavy and burdensome theme (and identic aural execution) into a rich approach that incorporates a huge dose of enlightening beauty. Spots of illumination penetrate the abyssal obscurity, creating a balance that caresses the bare nucleus of both aesthetic and subjective viewpoints.
For this seventh album as God Body Disconnect, Bruce Moallem joined forces with Cryo Chamber once again. Except for the mastering and artwork, everything was written, performed and recorded by Bruce; mastering and artwork were done, of course, by the label's owner, Simon Heath. The result is a six-panel reverse-board digipack compact-disc, printed in an edition of four hundred copies. And of course there is a digital edition too.
https://cryochamber.bandcamp.com/album/spiral-of-grief
https://www.concreteweb.be/reviews/god-body-disconnect
https://www.concreteweb.be/reviews/atrium-carceri-cities-last-broadcast-god-body-disconnect