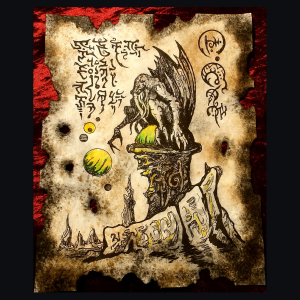 Release Date:
Thursday, January 5, 2023
I was really pleased when Raffaele Pezzella let me know that he started a new outfit recently. This one would be called The Great Old Ones, which refers to Lovecraft's surreal universum, as you surely know. And it's not just the name of this project that bears that Lovecraftian influence; the themes on the recordings will focus on the novels of this great writer as well. This one, Mythos Of Cthulhu, is the second release in a series that is inspired by these deities' pantheon created by Mister Lovecraft. The first one, Yog-Sothoth, was released in Spring 2022 (and will be reviewed too in a near future, if possible).
So, this successor of Yog-Sothoth, called Mythos Of Cthulhu, got also released via Eighth Tower Records, a sub-label of the mighty Unexplained Sounds Group family, run by the artist behind this project, Raffaele Pezzella. Everything was written and recorded by Raffaele, except for some guest collaborations (voices and electric guitars performed by Mario Lino Stancati, and some percussions, electronics and voices by Alexandros Magkos [aka Grim Machine]). The mastering duties too are courtesy of Raffaele. Like the first The Great Old Ones album, Mythos Of Cthulhu was released physically, albeit extremely limited, in pro-CDr / cardboard sleeve edition. This comes once more with truly stunning cover artwork by MrZarono, whose drawings always reflect on demonic, horrific, occult, mystic or magic themes. Lovecraft has always been a source of inspiration too, so it is no coincidence that his artwork gets used in this case.
Cthulhu was one of the most notorious entities amongst the species of the Old Ones, and the grandson of Yog-Sothoth (cf. the first recording within this series). This godlike and cosmic creature was worshipped by ancient civilizations at the beginning of Human Existence. Many traditional tribes await Cthulhu's return, who is now dormant, like all other Old Ones, in their hidden city R'lyeh deep under Earth's surface. It's this chapter, these themes, this part of the mighty 'legend', that gets narrated under the title of Mythos Of Cthulhu.
Eight mysterious titles (a remarkable difference with the debut), forty-three hypnotic minutes, that's what the listener can expect / experience. Through sources of Dark Ambient, Drone and Industrial, The Great Old Ones collect the stories behind this concept, with each of them being an individual chapter within a cohesive concept. All creations are structured around a comparable core, which consists of gloomy drones, industrialized injections, horrific ambience, mysterious soundscapes, reverberating waves of noise (though less claustrophobic than the debut), and many sampled additions. It holds the balance in between bleak and distant at the one hand (more than in the case of Yog-Sothoth), and an in-depth sonic richness, sometimes even of the delirious kind, too, despite a certain minimalistic basement, at the other hand. The deep-thought investigation in sound-collages and sonic textures gets ingeniously expressed through a specific and characteristic doomed and abyssal execution; a unique approach of minimalism that trespasses wonder and awe. Another sagacious aspect is the use of voices (quite limited in appearance, yet multiple in timbre), tribal and metallic percussions, and trans-physical astral sounds, once in a while. The cosmic aspect of the protagonists behind this concept gets its well-deserved focus, nicely balanced with the more void-like, abandoned specters behind the narrative. Subtle strings, eerie synth-waves, additional percussions and eldritch field recordings are used as well in a mostly subtle yet extremely interesting (and important) manner.
In a certain sense, the euphonies have an explicit dissonant identity, for the experimental execution goes way beyond usual patterns and predictable lines of harmonious play. Yet still there is a sense of melodicism, despite being an expression from a psychedelic point of sonic essence. Audio sculpting through mechanic and organic utils as basement, Mythos Of Cthulhu eventually became a bizarre yet abundant audible experience for the happy (open-minded) few…
https://eighthtowerrecords.bandcamp.com/album/mythos-of-cthulhu