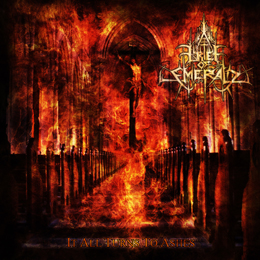 I do really appreciate the things Swedish band Grief Of Emerald has done since the second part of the nineties. Their characteristic Scandinavian-influenced Black Metal did always convince because of the nice symbiosis in between melody, aggression and persuasion, and the members' craftsmanship is impeccable. Unfortunately, Grief Of Emerald have not been able to reach the upper top because of the overflow on same-minded bands, among which several that are at least as convincing, and probably slightly better. In this case I'd like to refer to the likes of, let's say, Setherial, Marduk, Dark Funeral, Naglfar, Lord Belial, Dissection or Necrophobic. It might not seem that fair…
However, I was deeply impressed by the band's Non Serviam debut in 2011, The Devils Deep (the interested ones amongst you, dearest readers, might find the professionally written review in this website's archive section), even though half of the material was originally written a long time ago.
It All Turns To Ashes is the second Grief Of Emerald-full length on this great, strongly upcoming (but way too modest) Dutch label, with a total running time of forty minutes. This fifth full album opens with And Yet It Moves, which is a fierce Blast / Black apocalypse à la Setherial and Marduk, for example, yet with some atmospheric and horrific keyboard lines, a sound more occult than those acts, and more variation in atmosphere and structures. Imagine Svartsyn collaborating with (very early) Morgul, yet based on material created by Dark Funeral. Do you understand the point I'm trying to make?
The others tracks too are comparable. The keyboard lines, even though all background-oriented, are of non-deniable importance, the intensity of the songs is shamelessly comparable to higher mentioned bands (which do also include the many tempo-changes and the hammering power, as well as the melodic lead guitar lines and the few darkening decelerations), and the persuasion + joy-to-play is huge! Like their 2011-release, this album has a close relationship with the Blaspheme Death Metal scene, i.e. Morbid Angel, Hate etc., and with the European Sympho-Black scene (especially the Norwegian and the Polish one, i.e. respectively Dimmu Borgir or (earlier) Old Man's Child at the one hand, or à la Vesania or Hermh at the other).
Maybe, just maybe, not the whole album can be defined as an ultimate statement of superiority, but I cannot find any decisive contra either. I think It All Turns To Ashes is even slightly better than its predecessor, The Devils Deep, but that isn't but my personal (subjective) opinion. But you might give it a try if you like any of higher mentioned bands for sure!