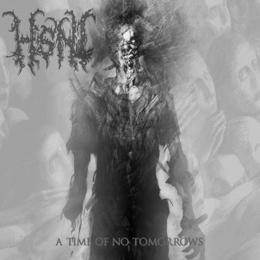 A couple of years ago, the avian influenza gave me hope. Since I am an animal-friend, I am not talking about the birds that could die. No further comment, but let's say it seemed to be a solution on the sickness called humanity, and the over-population of homo sapiens-masses…
Anyway, avian or bird influenza is also known as the H5N1-variant of influenza type-A, a virus that could have caused pretty nasty things (but it did not, for the WHO was too kind to, etc…) ;-(
H5N1 also are a pretty 'mysterious' act from Toronto, Canada, that did a grandiose demonstrational mini-debut in 2009, called Biochemical Warfare Kult (and most of the songs from this demo, for your information, have been re-recorded for this debut full length, by the way). With A Time Of No Tomorrows, the trio (in mean time they seem to have become a quartet) recorded thirty one minutes of sonic terror. H5N1 bring a nasty, down-tuned and lo-fi variant on Death Metal with a mostly sick approach. One of the reasons is the use of two pummelling basses (besides 'regular' guitars, drums and voices). I'd like to come back on the vocals too, for these are of a mostly abyssal, deep-throated kind. Another characteristic element is the injection of horrific synth atmospheres, but let us not forget about the unique changes in structure and / or tempo. Or the addition of weird samples. Or the lack of technical riffs, progressive leads, lightning fast and melodious solos, or post-dimensional structures.
Every single piece on this effort is different from 'what we're used to'. H5N1 (Mr. K, Mr. D and Mr. M) are a mostly unusual combo with a sick yet unique vision on Death Metal, standing miles away from the stuff you usually hear. Despite the enormously dirty song writing and extremely filthy execution, the result called A Time Of No Tomorrows could be a recommendation if you can't agree with the mass-production we're fed with lately. With certainty and persuasion I can say that this is one of the most morbid, yet also one of the most interesting recordings you might have heard in quite some time.
But what the f*** is going on with the actual production. All right, this specific approach can't cope with a clinically produced end result, but this is terribly smelly. A pity, a shame! For what it's worth, it does negatively influence my end result (see below; imagine what the score could have been…).