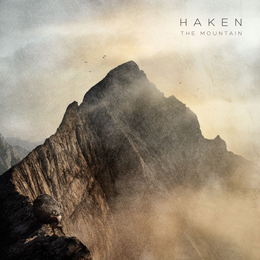 Release Date:
Monday, September 2, 2013
Huh...you know, as I was looking up background info for this review, I evidently came across the cover art of this band's previous albums, and I couldn't let go of the thought that I'd come across these Brits before. But, as it would turn out, I never reviewed those albums personally, nor did any of my colleagues, here at ConcreteWeb! Time for some serious getting acquainted then, wouldn't you agree, folks?
This London-based ProgMetal act was founded in 2007 by To-Mera guitarist/ keyboardist Richard Henshall and his two school friends Ross Jennings (lead vocalist) and Matthew Marshall (guitar), who completed the line-up with keyboardist Peter Jones (whom they met via an online forum), Jones' close friend Raymond Hearne (drummer), and To-Mera's second guitarist Thomas McLean whom turned bassist for the occasion. That same year the band recorded a two-track demo, which served as an opening device to play some small venues in their hometown to positive response from the audiences. However, before the year was over the sextet also played a support slot for Riverside (at Camden's prestigious Underworld), which this time brought some rave response from the media. That, in response, brought about that the band was able to do its following shows [low in number during 2008, because the guys were first working on 4 new tracks, which they added to the two they already recorded, and released together as their official 2008 debut demo Enter The 5thDimension – then, both Marshall and Jones left the band to pursue different careers,  and they were respectively replaced by Charles Griffiths (then still with Linear Sphere and Anchorhead) and Diego Tejeida (whom joined later n the year)] in a headlining capacity, and an invitation to support King's X on two UK shows in January of 2009 (notice that, thus far, two InsideOut Music bands have been name-dropped?). The ball really was rollin' now, as Sensory Records noted the band for its worth, and signed a deal with 'em, leading to the band soon after starting recordings for their debut album Aquarius, which eventually saw the light of day in March of 2010.
Meanwhile, back in 2009, the band were playing gigs a little more frequently now (the band's live performances still would not be enough to feed even the smallest of families, so, you know these dudes must be having day jobs to make ends meet, eh?), and they did their first UK mini-tour as support for Big Elf in October that year. With the debut album released, Haken opened for Diablo Swing Orchestra at London's Underground in May, and then (in October!) played at the Dutch Progpower Europe festival for their very first gig (and very first festival, by the way!) abroad. That same month, they also played the Summer's End festival, and in November they again opened at the Underworld, this time for Freak Kitchen. Meanwhile, the band not only made itself a reputation as a prime ProgMetal band within the British scene, but thanks to their album were getting appreciation from fans and media the world over!
It convinced the band that they were on to something good and, undaunted, they went into the pre-production of their sophomore album Visions, which was released in October 2011. In between having recorded the album, and its release, Haken played a couple of festivals, starting with April's Fused Festival (where they shared stages with the likes of Threshold and Vandenplas), then playing Monkeyfest and the German Night Of The Prog VI (which also featured Dream Theater, Anathema, IQ, and more) during July, and crossing the ocean to Progpower USA XII (in Atlanta, Georgia) before returning to Germany's Generation Prog Festival, during September. The album released, the guys finished the year by playing just the one British show, supporting Arena and Touchstone. Which is not quite a lot of showcasing, for a band which has just released an album, wouldn't you agree? I mean, one might start to think the guys are rather picky about the gigs they play. But, all joking aside, it has to be admitted that during 2012 the boys picked up on their touring schedule, playing a grand total of 15 shows (compare to 2007, when they played 4, or to the 3 in 2008, the 10 in 2009, 4 in 2010, and 7 in 2011...that IS a huge increase, but then we also have to mention that, after all, the guys also embarked on their so far most ambitious tour, a 6-date co-headlining tour with Headspace during September, which included 5 gigs on European continental soil, including 3 gigs in Holland, and one at Belgium's own Spirit Of 66 in Verviers!).
Writing sessions for the third album ensued in early 2013, but although they had already started recording (with Jens Bogren, at Fascination Street Studios...the place previously chosen by the likes of Devin Townsend, Opeth, Symphony X, and more) the boys couldn't resist supporting Finnish Progsters Von Hertzen Brothers on two of their UK shows, and then playing at UK's HRZ Prog Festival in early April...following that up with an appearance at early May's Celebr8.2 festival. Somewhere in between, a deal with InsideOut was signed, which brings us back to the music at hand!
If I can be allowed (what's to stop me from doin' it anyway?) to be honestly blunt, at a first listen I was somewhat taken aback by Jennings' falsetto style of singing...but then as I listened to the rest of the album I was swiftly enough accustomed to it, thanks to the occasional multi-layered vocal passages the guys throw in (which are, weirdly enough, the most impressive during the calmer passages!). And man, he doés have an impressively stable voice!!! The music itself is quite diverse, from impressively bombastic (with twin lead/ rhythm guitar parts alternated against/ or complemented with lavish orchestral keyboards) in its heaviness, to incredibly beautiful in the a capella (!!!) calmer parts (obviously, there's calmer music being played in between as well). End of the line, this is an album which will grow on one with each listening session. In fact, I am altering the initial rating I had in mind before starting this review (which was two turns of the album in my cd-player ago), and making this an essential buy, nominating The Mountain into my year-lists! I could go on raving about the album, piecing each of the 9 tracks of the 62-minute album apart, but I guess I'll end this by a quote from a review done for the band's debut album my Kevin Stewart-Panko of the American Outburn Magazine: "Say hello to Haken, your newest musical masturbation fantasy."!
Oh...forgot to mention...my getting the album so relatively late, the band already finished a new European mini-tour (only 5 dates, which started on Sept. 3rd at Belgium's Spirit Of 66!) in support of the album. Dates in early October will find the band play in Germany and at Holland's ProgPower Europe festival again. Seems like the band is really getting into spreading their music to a larger public by hands-on live performances!