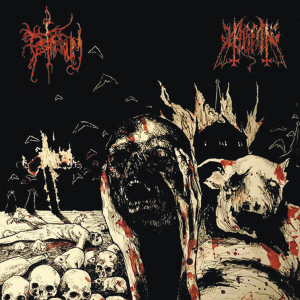 (an older release, yet another fabulous one from Hass Weg Productions that deserves my worthful time and devoted energy -smiley included-)…
I was enormously impressed by both bands' latest releases on Hass Weg Productions, a fabulous Black Metal label from France, so it made me aroused and enthralled when label's owner R. did send me a split with both French acts involved: Occitan-based acts Halsfang and Pestiferum. After years of relative silence, such thing made me 'happy' (yeah, whatever) somehow.
The result had been pressed on vinyl (12", limited to 300 copies, with insert) and compact disc (500 copies, jewel case with eight page booklet), including the lyrics, limited photography and explicit cover artwork by K.F.R's Maxime Taccardi (known from his visual assistance for e.g. Halsfang before, or acts like Drowning The Light, Yhdarl, Aetherium Mors, Enoid or Psychonaut 4). Mastering and mix were done by David Castel (ex-Manimal), in case you might care.
I will not go to deep into both projects involved (you can find more information in my former reviews for both Halsfang and Pestiferum), yet I'd rather focus on the sonic side of this split…
---------------------------------
From the city of Toulouse hail Halsfang, a solo-outfit by Balkor, which was formed at the very end of last decade. Only one recording was released officially, I think, being 2013's Vere Papa Mortuus Est (link for the review: see below). Balkor, by the way, is also active in e.g. Pestiferum (with whom he shares this split album), Mourning Forest or Totale Angoisse, FYI. Right here, he brings four lullabies (which clock about twenty-one minutes), 'sung' in English.
Because this project was meant to focus on the essence of the Old School, Balkor decided to continue the path he once went with Vere Papa Mortuus Est. His part on this split indeed dwells totally into the magic areas once started about three decades ago. This goes for both the sound as well as the song writing and performance. The drums, for your information, were recorded by Mourning Forest's Moonshred.
About the production, well, I can be very brief: this IS how that kind of material must sound like. It's coarse and crude, rusty and sharp-edged in all aspects. But for sure, and that's because we're thirty years later than the 'real' origins of Aural Evil, the mix simply fulfils my wettest dreams. Strings (both leads and rhythm guitars, as well as basses), (magnificent) drums and percussions, and vocals are well-woven as a massive symphony of ashes and ice. Even the samples (a church bell, war fragments, female voices, etc.) are so subtly, and therefor almost organically, injected into the total experience.
From sonic point, this stuff has everything that we are craving for: epic and energetic melodies, deep-growling screams, thrashing riffs, thunderous drum salvos, down-tuned rhythm strings, all packaged within a straight-forward surprise box (don't scare when you open your present, because it is an ugly beast that will crawl out of it). For sure there is a certain epic attitude, but I'd rather like to call it Thrash-edged, especially when referring to the kinetic riffage and overpowering rhythm section, and based on the invincible fortitude. Listen to From The Nun's Crotch, for example, and get usurped by the blasphemous and necrotic greasiness!
---------------------------------
Pestiferum actually hail from the city of Albi, a historical place in the South of France, known as 'the Red City'. The band was formed fifteen years ago and did release quite a limited number of recordings. Their latest one, Déchus Du Fléau (link below), dates from 2013, and as from then on things went silent - until now, when joining forces with Halsfang. As said, they share a member, Balkor.
Anyway, Pestiferum are represented with four new elegies that clock in between three and six minutes. These ones come with French lyrics, by the way. These four chansons are at least as impressive as Halsfang's contribution on this untitled split. Here too, the old styled majesty returns the whole of the time, in both sound quality and composition / performance.
Once again, I will be concise about the quality of the recording sound: lacking surgical neatness, yet overpowering and colossal in result, with a fantastic mixture (when drums, basses and rhythm guitars are indispensable, you have to hear them loud and clearly – and well, that surely is the case right here!).
Riff-wise, there surely is an epic approach, but the whole sounds little groovy too – no, not groovy as in 'infantile grooving', but this material grooves like a hurricane, a whirlwind, a pyroclastic eruption. Indeed, the whole is enormously fast; there is barely a moment to rest. Yet still Pestiferum succeed to add a modest dose of variation in both speed (there are levels of fastness, as you know, from violently aggressive to unstoppably blasting) and structure (with a couple of finely detailed breaks). The tremolo guitar work still characterises the spine of these four tracks, but within the same vein of the diversification in tempo, the whole instrumental (and vocal) appearance typifies this morbid, blasphemous and warlike story.
And something I just need to mention is the composition Der Erlkönig, which is a reinterpretation of a classic piece written in 1815 by classic composer Franz Schubert, and based on a poem by J. W. von Goethe at the end of the 18th century. If you know the original piece, you will be thrilled by this, eh, adjusted version for sure. If not trusted with the original, you will enjoy it too, anyway.
---------------------------------
In short: both Pestiferum and Halsfang convince, once again, on this nameless split. There might be some minor differences with their past efforts, but in general they both continue their quest to conquer, to destroy, to molest and rape the naïve audience once more. Both rooted within the old styled trend, with a fine equilibrium in between melody and aggression, with thrashing or grooving elements in interaction with epic ones, these two projects must appeal to those who like their steak still bleeding and raw…
https://hassweg-prod.com/eshop/en/hass-weg-releases/6729-halsfang-pestiferum-split-st-cd.html
https://hassweg-prod.com/eshop/en/hass-weg-releases/6477-halsfang-pestiferum-split-st-lp.html
https://www.concreteweb.be/reviews/halsfang
https://www.concreteweb.be/reviews/pestiferum
https://www.concreteweb.be/reviews/mourning-forest-sad