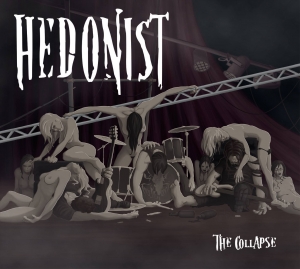 A couple of years ago, Consouling Sounds started the Consouling Agency spin-off, created especially to assist (new) bands, projects or artists. They offer their help in the studio, as well as for the release, promotion and / or distribution of newly recorded material. Bands can still act independently, but under the protecting wings of one of Flanders' most prominent labels.
A band that joined forces with that Consouling's Agency label is Hedonist, hailing from the city of Genk. In summer 2010, two artists that did release material via Consouling Sounds before, being guitarist Roel Paulussen (think: SardoniS – for which I did review some material before; just enter the band's name to find out; Roel is also in Barabbas and Solenoid) and drummer Frederik Cosemans (Hemelbestormer, as well as active in e.g. Serpentcult, Thee Plague Of Gentlemen, Leach 54 or Death Penalty), started jamming together. Pretty soon those jam sessions evolved into 'real' songs, and it was time to recruit another member, which eventually became bassist / vocalist Frank Homolka, Roel's colleague in Solenoid (also involved with The Killbots). The trio did record some material that saw the light as part of a split with Your Highness (singer Ben Baert, by the way, does some guest vocals on this album!). And now they come back with the full length album The Collapse, which mercilessly continues where their split contribution ended. In the studio, everything was canalised in good directions by no one else but studio guru Xavier Carion, by the way (Manic Movement, Channel Zero, Always Fallen, Trouble Agency, Dedicted and many more).
With The Collapse, Hedonist bring some form of heavy rocking Southern Groove / Thrash / Stoner Metal hybrid, including quite some sludgy elements and more than a handful of Doom-laden aspects. And I think that might sort of cover the whole package in its most generalistic description. 'general', for Hedonist have so much more to bring than 'just' a collection of elements that go back to the aforementioned (sub) genres.
Actually, it isn't that weird to add bands like Kylesa, Monster Magnet, Soulfly, Baroness or even Motörhead, Black Sabbath, Slayer, Channel Zero and Soundgarden, to the influential origins of this act. Hedonist come with elements that refer to all of these bands. Damn no, they are not original, surely not recreating the origins of the scene. And damn neah, Hedonist are not trying, or intending, to redefine the initial source of the scene either. What follows isn't but a personal, totally objective opinion. I think that this scene needs: or 1) revelation (divine or not, but the urge is present), or 2) a band that fucks Monster Magnet and Pantera in their virginal behinds: Hedonist do not succeed to fulfil that first element, but they come close to a certain outlet of the latter…
I do miss variation rather than originality, but after all, I think Consouling Sounds, once again, did a good thing with pushing this band forward. Hedonist are an act we will hear of again, so let's see what the future will bring.