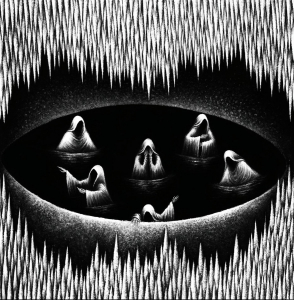 Due to professional and health issues, I didn't have the time / energy to write reviews for a long time – way too long. But even-though some releases I did receive in the recent past are, well, like 'old', I try to make it up for all those recordings that are worth being supported in any way. This goes for specific recordings, as well as some labels that do 'deserve' my attention and support.
No, as you know, this is a cynic approach; I do not have the pretention to stand above the (aural) artists that might be reviewed for this webzine. You know, Depressive Black Ambient Records is such label that caries my respect and appreciation. It has to do with two things: the truly aimable guy behind this Polish label (always sympathetic, and dedicated to his label) as well as the excellent projects on this label's roster (with their stunning releases). So, despite being 'old' in essence, I will now write down my thoughts on the untitled split in between two Polish acts, Human Sins and Blood Of Mankind.
First things first: this split of Human Sins and Blood Of Mankind. Two mysterious projects that follow the philosophy of immersion 'in deep hypothermia', without any aim 'to inhale and exhale'. It fits to this fine label's disgusting and perverse attitude, for their quest to achieve wisdom of post-spiritual consciousness and the equilibrium in between inner darkness and enlightening knowledge.
Besides a digital edition, there is one on compact-disc (jewel-case), which comes with oh so exceptional yet intriguing cover artwork, created by Yldes (Ceres & Saturn), also from Polish soil and known for her – especially black-and-white – visuals that trespass mental sanity. That's why her work fits so well to this split-album.
The split starts with five creations by Human Sins (the outfit of some er), being one lengthy piece (I) and four shorter ones (II, III, IV and V). I (which clocks 11:25 minutes) stands for an oppressive droning guitar-oriented track with an asphyxiating atmosphere and a mysterious mood, especially within its second half. The first half starts very down-earthed, apocalyptic and noisy, like a Drone / Industrial epic with an ominous ambience. Rough-edged layers of undulating string-work get covered by a thick mist of mystery and secretiveness, like a visionary state-of-mind that sees through the ceremonial eyes of the Creation itself. After about six minutes, things get little harsher, more mysterious and untouchable at first, but very soon the suffocating attitude makes room for a rather transcendental, semi-levitating gloom. Semi-acoustic guitars and a dreary yet beautiful lead-melody also reveal a subtle hint of DSBM / Blackgaze-alike magnificence.
The four shorter compositions (1:16 to 4:38 minutes) are somehow comparable, despite the limited duration, and then again they are quite different too; yet always with that characteristic identity of er / Human Sins. II and III bring spooky dusk, with nothing more than some so(m)ber guitar-lines; but captivating melodies they surely are! Despite the limited use of instruments, the whole sound so fruitful and fertile. A piece like IV, then again, exceeds that instrumental restriction, for it also adds slowly-pounding drum-patterns, additional guitar-riffage and portraying voices. The very short outro dwells in spheres of Winter Synth, covering this Human Sins contribution in a grim, cold, desolate frame of mind. Emptiness and oblivion are the sole reality…
Blood Of Mankind, run by A, comes up with three lengthy elegies (in between six and nine minutes), which were recorded during several occasions of different places. Threshold Of Time brings a bizarre, somehow uncomfortable mixture of depressive Ambient, Dungeon Drone and Kraut / Space stuff, including sampled voices, theremin-alike psychedelica, additional samples, and long-stretched, cheerless synth-lines. It's like trancelike material to evolve into a state of awareness and divulgation, even-though the outcome is shady, frigid, colorless. Cicatrix expands that psychedelic approach by adding spacy constructions, frenzy devices and heavy-weighted loops. Yet still, the 'core' perpetuates the mysterious, ghastly and dim ethos. It opens the doors of the astral mind, entering the halls of knowledge and consciousness, of origin and sources of existence. With The Grey Thoughts, finally, saunters too in areas of mental twists, yet initially more profoundly Ambient-laden in nature, and rather mesmerizing as from almost half of the track. Post-Rock oriented riffs, additional voices (sampled), ethereal leads, floating synths and eerie samples are escorted as one organic entity into a very decent last track on an unusual yet stunning split-album.
https://depressiveblackambient.bandcamp.com/album/dba-black-015-human-sins-blood-of-mankind-split-2021
https://virtualsoundsystem.bandcamp.com/album/split
https://www.instagram.com/yldes.art/