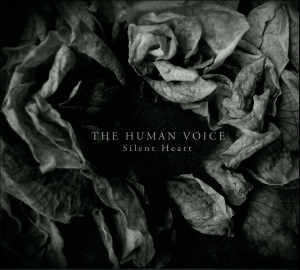 Release Date:
Thursday, January 21, 2016
I am sure most Ambient 'fans' know the name of Haerleif Langas from Northaunt, maybe Therradaemon or Mulm, or his collaboration with Azaghal (yes, I know, this has nothing to do with Ambient, but try to stay open-minded, okay?!). This guy did create another outfit, seven years ago in mean time, called The Human Voice. It delves within the same underground chambers / dungeons / caves as Northaunt, yet then again it might go deeper into the subject, being more versatile in both sphere and concept. Silent Heart appears to be a one-track experience, which lasts for fifty six minutes, and the release was done in a digipak edition of 600 copies via the majesty of Cyclic Law.
Do not just go onto the Northaunt identity, for The Human Voice might dwell within related yet, at the same time, different dimensions. This extremely lengthy one-track experience initially accompanies the listener to far-distantly and empty places of the subconscious, I think, being primary based on somewhat emotional, integer key-sounds especially. Step by step, the tranquillity gets injected / interrupted by sounds and field recordings, building up, slowly, very slowly, however without denying the initial integrity of deeply-rooted emotions like quietude and transcendence. After about seven minutes, vocal samples join in, and despite being quite bizarre, it strengthens the mysterious atmosphere. It delves deep, you know, very deep, and it drags you down into the most desolate abyssal pits of the underworld. 'take me in, take me with you'… At eleven minutes, the ethereal atmosphere get transmorphed into a rather minimal Ambient-Drone soundscape, including the subtle Noise-details and the oppressing details of mystifying obscurity; both elements that pay glory to this magic journey. The sound and atmosphere evolve once again, at about nineteen minutes, into a mystical soundscape full of floating melancholy and dreamlike atmospheres. There's an almost divine integrity going on, an expression of inner rest and tranquillity, introversion and introspection from a mostly melancholic kind; I am sure it is meant to be this way. The experience goes on, touching different highly-connected sub-structures, differing from each other yet maintaining a convinced cohesion, focusing on the inner soul rather than on outward appreciation (and therefor my appreciation is high!). At forty minutes, after quite a minimal and trance-esoteric excerpt, Silent Heart returns to the emotional depths of the mind, with those vocal samples that make, somehow, a difference (remember the greatness of Nights Amore's Subscribers Of Death?).
So, in order to conclude: The Human Voice bring a very personal, introspective piece of Ambient / Drone under the Silent Heart banner. After a short disturbing introduction, the experience takes you towards dimensions of the most melancho-dramatic kind, and for almost one hour it does not offer you the opportunity to escape from melancholy, introspection, transcendental trance whatever. Silent Heart is an experience that needs persuasion and endurance, but it's worth it!