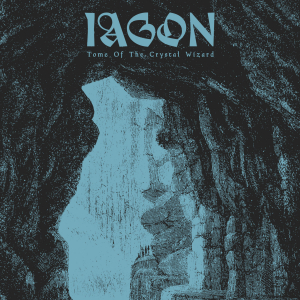 Album Title:
Tome Of The Crystal Wizard
I was not sure about how to start this review. I would focus on my appreciation for Dunkelheit Produktionen's roster, since I am a 'fan' of Extreme Metal for, well, some decades. And then I would refer to the open-minded approach of this label for they do sign, and release, material from other (related) genres too.
But actually, you know, this does not matter. A great label, a fine project, and a sublime release, that is actually a synthesis of what my review will cope with. Let's say that Tome Of The Crystal Wizard is a very fine piece within its specific genre, released by a label that did prove its importance more than once before. And okay, Dungeon Synth might not be what we would expect to hear via Dunkelheit Produktionen, yet then again, WTF?
Indeed, let's skip the narrow-minded borders of Aural Art and just focus on the pleasure of sonic satisfaction. So, here I am…
No, seriously, it might be unusual, unexpected, but Dunkelheit Produktionen have a lot to offer. You will surely be invited to more reviews that are not exactly Death or Black Metal oriented. And with Tome Of The Crystal Wizard, they do enter the realms of the Dungeon Synth scene.
Iagon come from North American soil (from Georgia, more specifically), and initially the Tome Of The Crystal Wizard EP was recorded and independently released in Autumn 2018. Shortly after, the DS-oriented label Ancient Meadow came with a tape edition (unfortunately, even though I do follow this label, I cannot find any additional information about it), and in early Spring 2019, Dunkelheit Produktionen re-released the material on both vinyl and compact disc too. And just informative, but of importance: the CD-edition had been re-released in jewel-case format with four-page booklet; the vinyl version exists in both black and blue vinyl (both of them extremely limited, evidently), including an A2-format poster.
Upon defeating the coven, you and your party find yourselves in an unfamiliar land. With only one path leading away from where you came, everyone decides it's best to continue into the woods.
After walking some distance, a mysterious book that's in your possession starts to vibrate and hum. Looking up from the trail you see a cave, and it's clear that what ever [sic] is inside is beckoning you through the book.
A shining light is flooting [sic] over waters of the sea that lays in the deep cave. It's the reflecting light that mirrors from the old crystal…
This concept accompanies us to an unknown world where reality and fantasy are in a permanent struggle. A world of wonder, of both marvel and inquietude, opens its gates and invites you to enter. Iagon, the brainchild of Tyler A., created the soundtrack that will guide you through those unexplored caverns where hidden spirits dwell, and where lights reflect on dark waters.
Tome Of The Crystal Wizard consists of six pieces, having a total running time of nearly nineteen minutes (indeed, way too short!). But size does not matter. As from the very short opener Blood Passage, the listener gets drenched in an old schooled atmosphere, an age where the glorious days of true, dark Dungeon Synth Music dwell. It sounds mysterious, with a ritual / spiritual twist and an obscure and gloomy mood. The sound is rich, with many layers of synth-based melody, adding a valuable touch of adventure and bravery. Despite its shortness, it's limited length, Tome Of The Crystal Wizard has a copious variation, with continuous changes, twists and modifications, subtly executed but enriching the result. It gets performed in a very organic way, these interactions and variations, which strengthens the cohesion of this EP.
A great element that needs to be mentioned is the use of martial drum patterns Through The Darkness. For some reason, for what it's worth, it somehow reminds me of Cintecele Diavolui, but that's just a personal idea.
Anyway, those who like 'real' Dungeon Synth (not that happy 8-bit or Chiptune nonsense; and believe me, lately, the scene is getting over-saturated with a lot of horrible, pathetically infantile stuff) – so, what I wanted to say is that initiates of the 'real' stuff, the dark-edged and mature material, will adore this release.
And one more thing, but apparently Iagon released some new stuff in the meantime, which actually was not planned to be released yet. I do hope that this stuff gets a decent (physical) distribution too soon!
https://iagon.bandcamp.com/album/tome-of-the-crystal-wizard
https://dunkelheitprod.bandcamp.com/album/tome-of-the-crystal-wizard
https://www.dunkelheit-produktionen.de/presta/nl/dunkelheit-releases/4300-iagon-tome-of-the-crystal-wizard-usa-cd-dunkelheit-releases-dunkelheit-produktionen.html
https://www.dunkelheit-produktionen.de/presta/nl/dunkelheit-releases/4298-iagon-tome-of-the-crystal-wizard-poster-black-edition-ltd-200-usa-lp-dunkelheit-releases-dunkelheit-produktionen.html