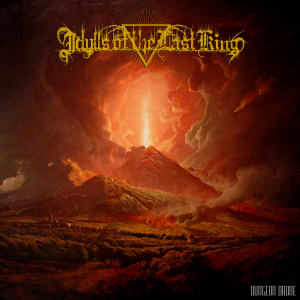 It is by going down into the abyss that we recover the treasures of life (Joseph Campbell).
I know that this act from Cyprus did release a new recording in the meantime (Hymns To The Earth And The Starry Sky; January 2022; a split with Greek act Heaven), yet still I want to write down my thoughts on last year's Dungeon Drone. I did express my appreciation for Where The Gods Whisper Your Name Amongst Themselves (link: see below), which was released in very early September 2021. So it was a thrilling moment to notice that Idylls Of The Last King continued with its productive existence.
Dungeon Drone is 'a tribute to those who enter the dark dungeons of their own existence, to everyone who dares to go where they would prefer not, and to those who dedicate themselves to a purpose where the odds may very clearly be against them […]. A tribute to those who decide to act heroically despite the consequences, because they know that if they do not live up to their own ideals, they will never be at peace with themselves'. It means that Dungeon Drone is like a soundtrack to accompany the listener during his / her quest to search after wisdom, introspection, truth and knowledge, I think. It takes you on a journey through hidden dimensions of the Inner Self, exploring unknown halls within the mind, experiencing secrets and revelations undescribed before.
Dungeon Drone has a total running time of about thirty-five minutes, divided into seven individual yet strongly cohesive chapters. It's a digital-only release right now, yet who knows; there might be a physical edition in the future (PS: Where The Gods Whisper Your Name Amongst Themselves has now been pressed on compact-disc too via Offerings Of Flame Productions; a renewed review will follow soon). And it does come with truly fabulous cover artwork (no idea whose work this is, actually), somewhat 'Mount Doom'-alike, with a beautiful colour-palette.
This recording once again combines militant epic with obscure ambience and heroic atmospheres. The basic structures are created around a well-balanced mixture of symphonic and droning (Dark) Ambient and martial Dungeon Synth, with secretly injected elements from Winter Synth, neo-classical Folk and electronic Fantasy Ambient. Dungeon Drone's basement exists of several layers of keyboard-laden melodies, ritualistic, haunting, vengeful, uncompromising and / or explorative, with fine yet subtle experimental sequences, both mesmerizing and industrial details, some well-thought percussion injections, and bombastic orchestrations. It's a rich adventure, cohesive yet dauntless, elegant yet still ostentatious in all its modesty.
Despite an enlightened execution, the material on Dungeon Drone is somehow veiled in a crepuscular nebula of heavy-weighted tenebrosity, yet still maintaining fragments, flashes and hints of illumination and fulguration. In a well-balanced way, it mingles symphonic distortion with chimerical spheres, playing with the extremes of both oppression and relief. Almost cinematic Dark Ambient and hypnotic Winter / Dungeon Synth get canalized in deep-abyssal and high-floating waves of sound, long-scaped at the one hand, then again rather defiant. The few sampled additions (like rippling water) do add a subtle mysterious touch, while the acoustic guitars (cf. The Journey Home) enrich this sonic journey with a sense of stalwart pride.
Idylls Of The Last King dwell in a reticent niche of gloomy soundwaves, permanently thrilling and exploring the limitations of the genres involved. Once again, this Cyprus-based project succeeds to offer a captivating, sophisticated and valiant chronicle for those seeking for transcendental themes…
https://idyllsofthelastking.bandcamp.com/album/dungeon-drone
https://www.concreteweb.be/reviews/idylls-last-king