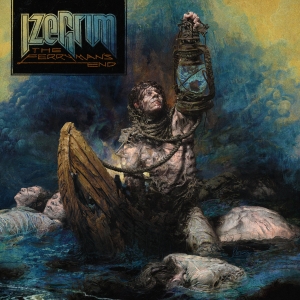 20 years in mean time, this Dutch Thrash band has climbed up to the highest regions of the international scene. Now, finally, after several years of silence, they return with their fifth full length, The Ferryman's End, once again via France's Listenable Records. It got recorded at the famous Soundlodge Studio and lasts for forty-two minutes (I know, a very short introduction, but since their 'popularity', you will find everything you want to know on the net).
I can be as short on The Ferryman's End as I did in my introduction. The album brings quite the very same stuff we're used of this band. Their Thrash Metal is harsh, heavy, energetic, powerful and hammering, done the most professional way. Okay, the sublime production (once again Izegrim did enter the famous Soundlodge Studio) plays an important role, but the craftsmanship of the band, going for both song writing and performance, is indisputable for sure. All pieces on this album have that something 'more', that little elementary detail that reminds me to the best angle of the Thrash scene. Most Thrash currents make me irritated, nauseous or even lethal, but in Izegrim's case I am always 'in' for a next round!
Besides, the vocals by female (!) shouter Marloes are top-notch, but it's the whole thing that strikes me. And I even dare to pretend: this might be the band's most complete album to date! I truly liked their New World Order EP (it was my first connaissance with the band), and since then each single release seemed to convince more and more. And damn yeah, the score for originality equals zero. But the result is a f*cking headbanging piece of thrashing madness, nothing more and nothing less.