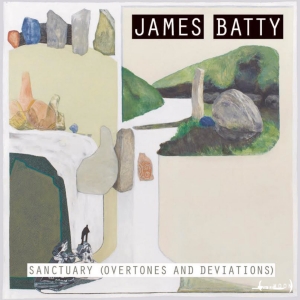 Album Title:
Sanctuary (Overtones And Deviations)
I had not heard of this guy before, but apparently James Batty is a multi-instrumentalist who lives and works in London. As from his youth, he's fascinated by music and sound compositions, and he did some studies at the known Chetham School Of Music. During his studies, he was elected in a competition for the BBC, the Young Composer Competition, which he eventually did win. Throughout his career, he did quite some solo things, including improvisations, and he did work with a huge variety of famous musicians too. That, in short, is like a brief biography. I'm sure you'll find much more on the .net…
In 2015 James started working on his first solo-album, for which he did write some material earlier that year. After finishing the main thing (at the Lynchmob Studio in London), he signed up with Frozen Light, a (fantastic) Russian label with a very varying yet satisfying roster. This recording got pressed in an edition of 300 copies. And what strikes me at first is the quite unusual artwork. But it does not seem to be that strange at all. James got influenced a lot by visual art, being paintings and movies. The cover, for example, was based on an artwork by Jo Baer, and besides this woman, James was inspired by some other movie makers and painters too while creating this album.
The album is quite a strange experience, for it is a mixture of traditional elements, like purely piano-based melodies, combined with electr(on)ic things. The opener Fantasia, for example, is a minimal melodious piece played on piano only, little thrilling / thrilled, yet leaving you hungry, like some sadistic climax denial. Haha, you didn't see that coming, did you?... Frontier then again, which is quite a short track, is like a minimalistic soundscape, a Field Recording based creation that explores special territories. And that is somewhat the tone for the whole album. Piano melodies, sometimes sober, then again more uplifting, are combined with electro-acoustics and experimental sound-play in general. Sometimes it does work, but to my opinion it does not always reaches the level it is meant to get reached. It might be a subjective idea, but I got the impression that this guy has so many ideas, great ideas, but a lacking experience to wholly compose that what he has in mind. Initially it makes me hungry, but finally it leaves me unsatisfied. It does not mean that this stuff sucks – on the contrary, I am pretty sure that this material will satisfy a (probably limited) public. Yet then again, it seems quite bizarre 1) to have this project having a release on Frozen Light (yet then again: the FRZL.-crew did never eschew abnormal bands or releases), and 2) this form of avantgarde experimentalism is an enormous challenge to endure, despite the 'light' (or is it: enlightened / enlightening?) tone. I do understand, and sort of feel, the pure, cinematic and introspective, and even visual (yeah, open your mind to enter the artistic world of trans-observation), intentions translated by sonic expression. It's like looking at paintings, which you do like or not, translated in aural frequencies.
The score has to do with my personal, and therefore subjective, appreciation for the Music, in balance with a more objective idea of what this stuff actually might connotate to connoisseurs of the genre.