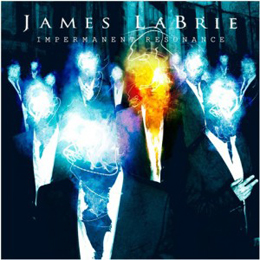 You know, before I checked more seriously, I could've sworn that I reviewed Dream Theater vocalist James LaBrie's previous solo album, 2010's Static Impulse, but it turns out that that job was left to colleague Erik (see his review posted 08/12/2010), and I was simply given ample opportunity to listen to the album, thanks to work sessions at the ConcreteWeb headquarters (as per usual when I listen to an album, I must've formed a review in my mind – I mean, I even remember checking data on the info sheet that came with the download promo copy the editor-in-chief was letting me hear). However, I since found out that my own "job-related" connection with James' solo work goes back to his 2005 album Elements Of Persuasion (posted 15/04 of that year, and still available for your scrutiny in this website's "Archive" section).
Now actually, colleague Eric was not too much into the rough vocals on the Static Impulse album, provided by drummer Peter Wildoer (known from his work with Darkane), and stated so quite fanatically in his review, completely ignoring the different musical direction the album had taken in comparison to previous works. Because, you see, in spite of the fact that LaBrie was still working with keyboardist (and longtime collaborator) Matt Guillory and guitarist Marco Sfogli (whom had also collaborated on the Elements Of Persuation album), the overall sound of the music had now shifted toward what is generally typified as "Götenborg Metal", which is in essence a Death Metal with both rhythmically heavy and melodic guitar parts, as well as lavish keyboard lines (occasionally give a lead play), and vocals which alternate between clean and screamed/ growled (in many cases even combined/ complementary, as performed by different members of a band), with the clean vocals usually the most prevalent.
With LaBrie returning to the same musicians as on his previous solo outing (the fifth member then also being bassist Ray Riendeau), it shouldn't be a surprise that the new album is very much in that same, heavier vein which James was so excited about when he talked about his 2010 album in interviews prior to its release. With a release now almost two months old, the album (which was also given a limited digipak edition in Europe, featuring bonus tracks "Unravelling" and "Why" - and was also issued on 180gr. vinyl in both a black and white version, each including a bonus CD with the full album and including the European digipak's bonus tracks), I am able to state that the album got generally very positive reviews from the major media, and the reception by the fans was equally positive. I guess I'll join that reviewer from German webzine Cdstarts.de in his statement that James LaBrie and his band have found their own sound, which is well emancipated from what James usually does with Dream Theater, and that this is not simply an alternative to DT, but an original work in it own right!
I'm afraid that in my research, I was not as thorough as usual, and am therefore unable to tell you with certainty where on the internet you can find audio off the new album. At (www.) jameslabrie.com, no songs off the new album are actually available (not even two months after its release, see?!), so I guess you'll have to surf the web a little more...maybe there's a MySpace, or a page on one of the other usual music websites?...and otherwize I'm sure there's at least 30-second samples of all songs made available for listening purposes by the usual trusted online sales websites (check Amazon, iTunes, Napster, ...and what have you not!)? For the time being, let's take a completely different stance (than my colleague) towards the incorporated rough vocals, and love 'em to bits, eh?!