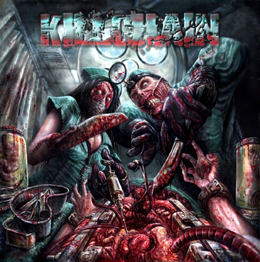 Killchain hail from Slovakia and next year they will celebrate their tenth anniversary. During the past decade of existence (or at least almost a decade), they released two full lengths, One More Victim (2007) and They (2009) (both of them via Maintain Records, for your information), and they toured around the whole European continent (from the Iberian Peninsula to the Alpine countries, and from Turkey to France), sharing stage with notorious combos such as Fuck The Facts, Vader, Sinister, Exhumed, Gorgoroth amongst many others.
The quartet, being guitar player / vocalist Stano, Kubo (drums), singer Gabi, and bassist Matkes, release their third full length via Metal Age Productions, located in their home country. Actually, the band self-released the stuff somewhere in 2013, but now they have the opportunity to work with a professional label, resulting in a trans-European distribution.
Where Is Your Saviour (duration: half an hour) brings pure, simplistic Death Metal with a prominent Grind-touch and a subtle Hardcore-injection (mainly when it comes to the rhythm section), stripped off of any kind of additional supremacy. The stuff gets performed in a very technical manner, with suspense and joy as keywords. Despite the lack of originality, it sounds so honest, so wonderfully honest, and I cannot but appreciate this approach. Unfortunately there is a total lack of variation; several of the tracks do sound just alike, and for such a short-during eleven-tracker, that might be a turn-off. But because of the persuasive play, I will not chastise this effort.