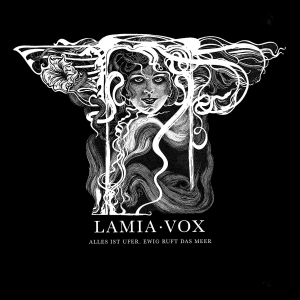 Album Title:
Alles Ist Ufer. Ewig Ruft Das Meer
I usually think about Death or Black Metal in general, or Grindcore, when considering the sonic scene from Czechia. When it comes to Ambient, Drone, Ritual, Occult and the likes, however, my 'knowledge' is limited to just a handful of projects. AutopsiA, Blear Moon and Orbbiss are some examples, but one cannot ignore the impact of Lamia Vox on the audible part of my (intoxicated) brain.
My first acquaintance was Sigillum Diaboli, and soon after I found out that there was an older thing too, …Introductio. Also Inlumaeh did passionately please my eardrums (review link: see below), and now we can enjoy a new work, once again offered kindly to the audience by France's finest label Cyclic Law. Alles Ist Ufer. Ewig Ruft Das Meer can be translated as 'everything is (a) shore, the sea forever calls', and it's named after a poem by the controversial German expressionist author / poet / essayist (and physician) Gottfried Benn. The album sort of breathes 'a spiritual message, a counterblast, an antagonism to the rationality and greedy materialism of the post-theist and nihilistic age' (quote from the bio). Other inspirational sources are hermetic and nature-laden philosophical thoughts, the symbolism of the fin-de-siècle current, brainless consumerism / materialism and spirituality (or better: the lack of spiritual ideas and approaches by our modernistic society). Therefor, the record 'celebrates another world, one of the higher dimensions, beyond the human sphere, a world of intoxicated and ecstatic alchemy of poetic language and ideas. […] Dionysian liberating lawlessness opposes the sterile rationalism. The creativity, divine madness, metanoia as a form of ultimate salvation.' It is like a quest for the Inner Eye, trespassing the limitations and boundaries of physical satisfaction.
The album was written, recorded and mastered in Prague by Alina Antonova over a period of several months, and initially released independently in Spring 2020. Then the mighty Cyclic Law crew decided to release it in physical form as well, i.e. on compact disc (a six-panel digipack, limited to 600 copies) and on vinyl (an edition of 300 copies in gatefold sleeve). The intriguing cover artwork, by the way, was done by the great illustrator Artem Grigoryev (also known for his nice visual assistance within (Black) Metal milieus), the general layout was taken care of by label owner Frederic Arbour, and the photography comes from the hand, and eyes, of long-time collaborator Krist Mort.
The eight titles last for about thirty-five minutes. The lyrical side is based on poems and texts by a wide variation of thematical approaches, yet with the very same conceptual approach (cf. what I mentioned two paragraphs ago), originally done by authors, poets etc. like Arthur Rimbaud, Georg Trakl, Friedrich Hölderlin, Aleister Crowley and the translations by Thomas Taylor of the Hymns of Orpheus.
Alles Ist Ufer. Ewig Ruft Das Meer opens with Three Dreams, based a poem by Georg Trakl (at least, the first stanza of that lyric). From aural point of view, it's like a long-stretched journey, with several layers of synth drones at the one hand, and a softly speaking narrative female voice. This gets accompanied by floating female chants at the background and additional samples and instrumentation, resulting in a dark and oppressive, yet also a somewhat revealing, ceremonial soundtrack. A dark fairytale of nescience and mental destitution.
Eternity, taken from L'Eternité by Arthur Rimbaud, is much heavier and bombastic, with those spoken voices, a huge scala of instruments and different percussions (truly uplifting this trip through unexplored dimensions!). The combination of ethereal instrumentation and mighty keyboard drones results in an abyssal experience, and the additional choirs and harmony chants, as well as the tribal drum-beats, add a mysterious, ritualistic atmosphere.
Named after a poem by Aleister Crowley, Dionysus rather brings back a decadent mixture of Dead Can Dance alike dreamworlds with a ritual evocative attitude. Quite disturbing is the penetration of energetic percussions as from half of the track, slowly evolving from the introvert first half towards a sinful sonic rite. Let's dance naked around the fire; lust and sin will guide us; wine and sweet lips may caress my mouth. Be ready to open your eyes and submit…
A small fragment of Hölderlin's Hyperion's Song Of Destiny makes the textual basic for Song Of Destiny. Because of the tribal drum beats at first, yet also when symphonic synths join, hints of Arcana / Sophia appear. Song Of Destiny is very varying, for calm fragments continuously interact with full-bombastic ones. This piece breathes a suffocative emotionality, with tristesse and melancholy; relief and resignation too. It's is, once again, incredible how easily Alina is able to 'translate' a concept through sonic ambience.
Animus is another mighty hymn, somewhat complex, very overwhelming too. Once again based on several levels of keyboard supremacy and a wide range of drums and percussions, the instrumental framework results in a classical yet full orchestration, being both symphonic and bombastic. Rather than whispering narration, melodic chanting brings forth a story of condemnation by love, there 'where blood of Gods is beating in the lovers' veins, where lustrous spirits dwell and Fire reigns'…
I Call The Stars On High then again is based on Orpheus' reinterpreted hymns, with these stars being summoned with an unholy voice. This composition surely is clothed in doomed robes, veiled in a poisonous mist, surrounded by eerie, gloomy spheres. The contrast in between the energetic and up-tempo percussions and the esoteric strings and synths works opiating and intoxicating.
The album ends with The Return, a pessimistic yet grandiose opus of martial glory and mystic ambience. The victorious and post-apocalyptic elegance of Martial Industrial, the unheavenly beauty of Neo-Classical Music, and the ominous character of Doombient (why not?) are canalized into a fabulous opus magnum, a grandiose hymn that leaves you confused, deserted, melancholic and introspective with its divine yet confronting message. One thing: no idea, to be honest, who performs the male voice. 'No words of truth are left unspoken, for completeness we strive. The seals of creation now are broken. Into the depths we dive, and there's no chance to stay alive'…
Lamia Vox once more confronts us with a clear statement of mankind's imperfection (oh, I try to calm down my ascending misanthropy). From aural point, there is so much to experience with Alles Ist Ufer. Ewig Ruft Das Meer, with very varying yet hugely cohesive individual tracks, that come with a full-bombastic, well-balanced sound quality.
https://cycliclaw.bandcamp.com/album/alles-ist-ufer-ewig-ruft-das-meer
https://www.cycliclaw.com/music/lamia-vox-alles-ist-ufer-ewig-ruft-das-meer-cd-lp-148th-cycle
https://lamiavox.bandcamp.com/album/alles-ist-ufer-ewig-ruft-das-meer
https://www.concreteweb.be/reviews/lamia-vox