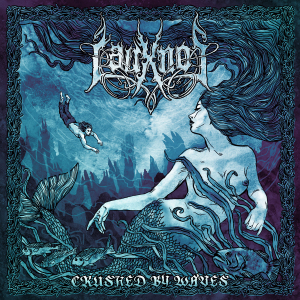 Lauxnos is the name of a Russian project, which was formed in 2013 by multi-instrumentalist Kirill 'Katharos' Andreevich, who is (or was) active as well in outfits like K.M., Hyperborean Frost, Emptiness Soul, Sona Nil or The Happiness Cage, amongst others. The first years, Lauxnos was (another) solo-project by Katharos, with some very interesting releases (amongst which the Satanath Records debut My Dead Ocean – this actually was my first acquaintance with this project). As from 2017, Lauxnos turned into a band, i.e. that some other members joined forces with Katharos under the Lauxnos moniker. It was not just a live line-up, but in the studio the musicians started working together as well. And that is still the case.
So, this newest full length, and actually the first official full-length studio album as a quartet, was recorded by Katharos (now focusing on the vocals and bass parts) along with guitar players Shoggoth and Amdusias and drummer Funeral. They did perform together in for example Sona Nil, Hyperborean Frost or Emptiness Soul as well, by the way. Everything was recorded and mixed + mastered by the band (aka LXNS Music). The physical edition (compact disc in 'regular' jewel case) was printed in 500 copies, and comes with an eight-page booklet, which includes the lyrics in Russian + the English translation. The artwork is somewhat psychedelic, but fitting, courtesy once again of Vladimir / Paint-It-Black Design. It got released in another partnership in between Belarussian Symbol Of Domination Productions and The Ritual Productions from The Netherlands.
Crushed By Waves starts with the lengthiest track on the album, The Voice Of Dead Ocean, which starts with actually a very nice piano melody (with floating synths at the background), joined after a while by a rhythmic drum pattern. At about two minutes, things transform into an acoustic passage at first (basses, acoustic guitars, drums, keyboards), and eventually everything turns into the core business of the band. And that is a fine and well-balanced form of Post-Black Metal / Shoegaze stuff.
The approach is enormously varied and creative. Okay, with creative I do not mean that Lauxnos are a band that renews the scene. They do not, while using many 'traditional' elements and structures. But they have that little distinctive, and that for a couple of reasons. One thing is the huge variation. Every single composition seems to build upon many chapters. But the changes in tempo and structure are so naturally performed; truly amazing it is. Sudden breaks and blasting eruptions in speed, the injection of high-quality guitar solos, the balance in between electric and acoustic passages, the use of traditional and modern elements, the vocal diversity; in a very organic way, Lauxnos sort of perform a 2.0-form of Atmospheric-Depressive Blackgaze.
The drum parts, for example, are quite remarkable, and ingeniously composed / executed. Once in a while you sort of need to get used to them, but in essence they are one of the prominent elements within the Lauxnos story. Andy 'Funeral' has a very characteristic playing fashion, distinctive from most combos. I have to admit that it might sound like being programmed; at least if you do not know the drums and percussions were played live. But as said, that's what makes this a remarkable thing.
The better part is based on highly melodious structures, with reverberating / twin / tremolo riffing and a couple of well-crafted solos. They go well with the growling screams, which are blackened most of the time, and grunting once in a while too. And not that uncommon, yet melodic clean voices / choir are not a stranger either. But I might not forget to mention the rhythm string section, which is such great support for the quite technically executed melodies. I did mention the acoustic excerpts and somewhat eccentric, even progressive drum patterns, but now I am rather referring to the highly supportive bass and rhythm guitars. The sound of those strings makes the whole listening experience intensive and arduous, which is a well-thought counterbalance to the tuneful main structure.
And that brings me easily to the quality of the sound. Well, the production is clean – not too clean, as in 'clinical', yet very decent. Yet still it maintains a certain harshness and roughness too, which is indispensable, of course. The mix is simply top-notch. All ingredients, both leading and rhythmic, both vocally and instrumentally, both acoustic and electric, have been mixed with such detailed balance in between them. The importance of the bass and rhythm guitars, for example, which I referred to in my former paragraph, therefor are so pronounced, without taking over the lead, yet not fading away as a second class detail either.
Well, I think that every open-minded fan of, let's say, Harakiri For The Sky, early Lantlôs, Fen, Alcest or Agalloch (and the likes, you know what I mean) will surely adore this newest creation by Lauxnos.
https://symbolofdomination.bandcamp.com/album/sodp118-lauxnos-crushed-by...
http://satanath.com/sodp/item/sodp118.html
https://lxns.bandcamp.com/album/crushed-by-waves-lp-2019
https://www.concreteweb.be/reviews/lauxnos
https://www.concreteweb.be/reviews/emptiness-soul
https://www.concreteweb.be/reviews/emptiness-soul-0