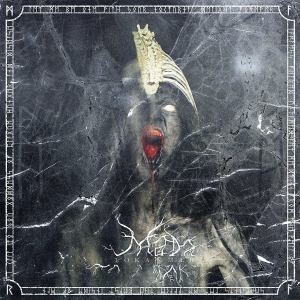 A short one…
Despite existing for twelve years, Swedish horde Mara, formed in 2010 by mister Vindsval, didn't release but four official albums until now. Okay, in the early years, we had two demonstrational releases, but it took until 2015 to enjoy the project's debut Seiðr (to be considered a solo-effort by the founding member). It was followed in 2018 by Thursian Flame (the first one as 'a band'), and in late 2019 we could get acquaintance with Rök, their debut on Immortal Frost Productions. It's that very same Flemish label that takes care of the release for Mara's fourth opus, Loka Mær.
Former members Vrede and Ynleborgaz left after the release of Rök, but vocalist / guitarist / composer / lyricist Vindsval recruited new members to finish the fourth epos: Garm (bass), P (drums / percussions) and J (guitars). The release is available on vinyl (three different, evidently limited, versions, including a twelve-page booklet and an A2-sized poster) and compact-disc with twelve-page booklet (and digitally, evidently), with intriguing artwork by the band's chieftain himself (layout: label-friends WrathDesign). Recordings were done at the Möllan Studio, mix and mastering at Dark Prod Studio.
Loka Mær can be considered an EP, seen the short duration. It lasts for less than twenty-six minutes, more specifically. However, the six compositions do not leave you unharmed. For the better part, it goes on in the vein of Rök, which was like a sonic tornado. Inspired by ancient pride, hate against the human kind, and Viking mythology, Loka Mær narrates about pride, battle, victory and pagan belief. The short intro Myrkriða tells a lot, like a march onwards to battle, even-though it has nothing to do with Mara's essence-of-being, i.e. bringing blackened and warlike material.
But that bloodlust and rage arrives immediately after the introduction via the track Mara. Fierce, uncompromising, thunderous and meteoric, Mara and the other hymns combine an elevated dynamism with an attitude of conviction and persuasion. The energetic, lightning stuff comes with a well-balanced melodic approach, which strengthens the epic, paganised concept and atmosphere. The better part consists of raging riffs, heroic melodies and vitriolic, brutal riffage, including the harsh, barbarous throat of Vindsval. All tracks do have an exalted energy and a fine-tuned amount of tempo changes. However, those changes in tempo in fact are fluctuations from up-tempo over lightning to blasting and erupting. Once in a while, the whole decelerates a little (the monumental track Thursaseiðr is such example), but the average BPM can only be described in terms of rocket science. And still, as said, that melodious aspect keeps on covering the whole quest.
Some well-crafted leads and prestigious solos add an ecstatic level of refinement, which goes sweetly hand in hand with that rancid brutality. The fine drum-work and the strongly supportive rhythm-strings too enable this EP to reach awe and respect. Last but not least are the semi-acoustic passages in a track like Wolf, that complete the prominent bombastic perspectives.
As said, I wanted to keep it brief and concise this time. Conclusion: fans of uncompromising Second Wave-inspired War / Heathen / Black Metal with a Scandinavian frame of mind must understand that Loka Mær is the definition of what they want, what they need, what they crave for. Nothing new, nothing renewing; just genuine Sonic Supremacy…
https://www.immortalfrostproductions.com/releases/mara/mara-loka-maer-cd-vinyl-digital/
https://digital.immortalfrostproductions.com/album/loka-m-r
https://mara-sweden.bandcamp.com/album/loka-m-r
https://www.shop.immortalfrostproductions.com/product/mara-loka-maer/
https://www.concreteweb.be/reviews/mara