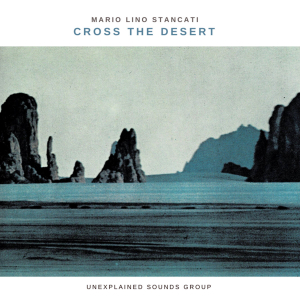 I had not heard of this Italian guy before, but apparently Mario Lino Stancati did graduate in 'disciplines of Art, Music and Theatre', resulting in a multi-disciplined artistic carrier as author, essayist, novelist, poet, dramatist, actor, director, music composer, vocalist and instrumentalist. As a musician – and that's what this review will deal with in the first place, of course, he plunges into a wide range of styles, both as song writer and musician, with a motivation to 'explore' and 'experiment', having developed his own methodology, and being specialised in guitar work especially. The latter will surely come back in this strange album.
The album Cross The Desert is a very experimental thing, a concept about wonder, unexpected happenings, getting / letting loose and the ability / the courage of questioning the familiarity, about drifting away, about birth and rebirth, detaching opportunities yet to explore and unconventional mental passages; free of deliberation and adjudication, free of limitations in search of uncontrolled opportunities; and of course about a huge dose of unexplained sounds (got it?). Blindfolded, where will my feet bring me; unchained, what will be the destination of my quest; liberated, will the core of my being reach enlightenment, resignation, wisdom or introspection. 'A laying down, on the one hand, of the external conventions in order to make room and give light to the unexpected, to what pulsates underground, unheard. On the other hand, a putting aside of one's beliefs to give life and breath to strongly desires, under the skin, to finally make itself heard'.
Mario translated these moral and psychological, spiritual and philosophical questions into a huge sonic experience (or is it: experiment), defined as Cross The Desert, because the desert is that place that lacks of traffic lights, floor maps, bollards; a vast landscape with only the sun to guide you, so the nights will disturb and confuse, and so do the desolate dunes and lifeless sand fields; indeed a well-thought metaphor. The result is a frenzy travel that clocks over one hour, with nothing but confusing yet explorative elements from Ambient, Musique Concrète, Experimental, Drone, Psybient, Field Recordings, Noise and huge doses of found sounds, samples and voices. …besides the aforementioned guitars, of course. The digital and the physical versions got released via Italy's Unexplained Sounds Group (run by the mastermind behind Sonologyst); that physical one being a four-panel digipack with some information on the artist, and fitting artwork, representing a deserted landscape.
It would bring us too far to analyze each single composition on Cross The Desert, but a few moments of sonic dissection aren't but appropriate, I think. Opener Plenus Part I, for example, stands for an intimate yet heavy and doomed orchestration, built around a dark-droning foundation, mesmerizing melodies and a somewhat astral'ish sound. It is a pounding track, with a pushing rhythm and a moody atmosphere, yet it is fine to notice the ethereal side when approaching the final sequence. Also the second Plenus hymn (indeed, Plenus II) gets injected by moments of oppression and doom (amongst a whole range of tribal and electronic try-outs).
As from the second song, Verrà Dopo  Il Fiore (which features, by the way, Swiss Experimental / Noise / Electronics / Ambient / IDM artist Walter Fini; you might remember this name as well from his involvement in, for example, [email protected] or The Fused Ensemble) (both of them [Mario and Walter], by the way, once worked together under the Come Un Prodigio banner, which was released via Godhatesgod Records), Mario presents his ability to create experimental music with orbital sounds and eccentric guitar work. The progressive approach is twisting with the listener's psyche, because of those cosmic guitar melodies, as well as the use of programmed electronics and some found sounds and samples. Those electronic devices are very important throughout the whole album, and reappear more than once, sometimes trespassing the borders of most spooky dimensions (cf. E Non Saper Nuotare, with those haunting spoken words and conjuring whispers).
Moments of esoterism and meditation pass by as well; the opening chapter of Gola D'Aria, with voices by opera singer Maria Todaro (she collaborates a couple of times), is an example of that enlightened approach (even though that this specific track soon evolves into a futuristic collage of sound manipulation). Or the same might go for the tribal, folky start of The Impassive Harmony Of Objects as well (also morphing soon into an unusual collage of samples, field recordings, sounds).
Once in a while, things go heavier too, with intense droning guitar passages, like in O Quam Tristis Et Afflicta, a strange composition that includes those robotic and mechanic additions and beats, as well as floating synth-based atmospheres. Even fusing details of Americana, Krautrock and Post Rock are somehow included. The deep-toned bass lines (courtesy of Wilfried Hanrath?) and jazzy percussion turn the whole into a mostly psychedelic sonic experience. Or that heaviness may cause a harsh touch of uproar, cf. an elegy like Saturami, mingling some sub-genres of the Noise scene: from Experimental Noise over Drone Noise up to Harsh Noise.
There is not one single piece on this album that sounds like any other one, but still this unashamed and tortile genre-crossing fusion of sounds, melodies, atmospheres and structures has that open-minded post-artistic identity. It's somehow cinematic, but extremely hard to digest. And that makes this a very difficult adventure to join. The ostensible lack of cohesion, caused by the enormously varied approach and the wide range of styles and genres involved, works confusing. Darker passages interact with ethereal moments, organic moments alternate with electronic experimentation, a dreamlike ambience has to compete with moments of disturbance and confusion. The fusion of so many angles, approaches and inspirations is not that easy to cope with. Yet then again, there are several fragments that might provoke excitement too. I recommend giving it a listen at first, for you might blindfoldedly and undressed plunge into the empty swimming pool to unphysically float away with Cross The Desert.
https://unexplainedsoundsgroup.bandcamp.com/album/cross-the-desert