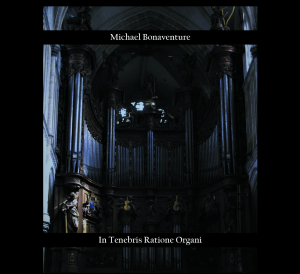 Album Title:
In Tenebris Ratione Organi
[due to health issues in my family, quite some reviews have been delayed; this one too is about an album for which the review had been prepared a while ago, yet it never got finished; now I will…]
Despite his name and the current label involved, Michael Bonaventure is not an Italian artist but a Scotland-born composer / organist / promotor, living (and working) in Edinburgh (Scotland) and Amsterdam (the Netherlands) especially. His sources of inspiration are religious, spiritual, liturgic and supernatural in nature, although the cosmos, astronomy, alchemy, evolution and phantasy are not unknown themes either within his artistic vision. He's organist in an Edinburgh-based church, part of the Contemporary British Organ Music family, and part of the duo Automatronic (together with Huw Morgan, formerly assisted by e.g. Alistair Zaldua and Lauren Redhead). As organist and electronic musician (no, he is not electronic himself; he performs electronic Music, hehe) he performed all over Europe and North-America, and under his own name, he did record and release several mini and full-length albums.
His choice to play the (pipe) organ (besides synth and other instrumentation) is a conscious one, for Michael considers this intriguing instrument as one that is affiliated to both God and Satan, 'a purveyor of myriad densities and shades of massed tone, elemental fire and inexhaustible air, capable of inspiring wonder, awe, profound mystery and sinister darkness'. It is like a synthesizer, capable to create multi-faceted layers of sound, which 'allows one to explore ever more unearthly dimensions of darkness and mystery, and gives rise to new and bizarre concepts of what organs might be'…
The album In Tenebris Ratione Organi is a nine-track recording, written and performed by Michael, and eventually mastered by Raffaele Pezzella. The latter, Raffaele, is the (sympathetic) guy behind Eighth Tower Records, which is the label that releases the physical version of In Tenebris Ratione Organi (FYI: the mother-label Unexplained Sounds Group has a former Michael Bonaventure album on its roster, the compilation Works 2008 - 2017). That nice digi-compact-disc, with a stunning cover-picture of a church-organ (the design, by the way, was done by Francesco Di Stasio, known for Filth Colossus or Nihil Impvlse), is sold out in the meantime, I think, but there is still that digital opportunity, of course.
Anyway, this album clocks bout seventy-five minutes, divided (as mentioned in the former paragraph) into nine (indeed mainly lengthy) chapters. The result is an amalgam of sounds, organs of voices, bells or digital noises and samples, exploring the far-out corners of any thinkable and illusory dimension, both within spheres of cosmic majesty as within the depth of our subconsciousness – macro and micro, darkened and enlightening, earthly and presumptuous. In Tenebris Ratione Organi is an overwhelming experience, balancing in between frenzy experimentation and in-depth melodicism, mingling bombastic orchestrations, deeply-dark in nature, with introvert chapters, mesmerizing excerpts and psychedelic passages. Each title, each composition on In Tenebris Ratione Organi represents a unique state of mind, each single one is like a capricious symphony, fusing droning bombast with spacy insanity, fusing dreamlike waves of floating sounds with overwhelming moments of demented energy. A gathering of unusual textures, bizarre loops and fuzzy textures, channelled into avantgarde creativity and eclectic elegance somehow.
Remarkable too is the vibration effect of the organ, which cannot be achieved by a 'normal' keyboard. Well, actually, a synthesizer can reach that vibrating sound too, yet with the organ as main instrument, the intensity sounds, and feels, much more natural; lets call it organ-ic (get it?). It veils two whole into an abstract, surreal fog (or gets that foggy smoke caused by the (galactic) weed?).
Despite the intriguing duration of this recording, I will leave the comment simple: do give In Tenebris Ratione Organi a try (or several tries). This sonic experiment trespasses the limitations of what some people define as 'Music'. This goes further, by resulting in an intriguing adventure of Aural Art. As mentioned, organs, with the hint of voices, bells and field recordings / found sounds, have been canalised into one huge galactic journey, deep within the listener's mind. Amen!
https://eighthtowerrecords.bandcamp.com/album/in-tenebris-ratione-organi