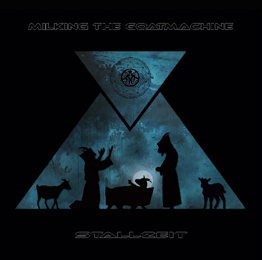 I did have the goated honour to review Milking The Goatmachine's former releases Back From The Goats, Seven… A Dinner For One, and Clockwork Udder (see this wonderful site's archive section in case you do goatly care), and now our pretty website's boss grants me with this crazy combo's newest play, Stallzeit. Time to go to bed, dear goats, but not without those sweet lullabies during bedtime-porridge!
I'll keep it short. If you're trusted with this band's material, you know what to expect. It isn't that different, but it is at least as impressing and interesting as the past.
In case you're a Milking The Goatmachine-virgin (milk might never tasted that orgiastically satisfying, you know): goat-grinding Death Metal with a lack of originality (cf. the Punk / Crust-assaults), injected with lots of goated tempo-changes, a goating fabulous sound (production plus performance) and even more goath variation than before (and then I want to refer to: 1. the tempo and 2. the melodic structures).
…more Tech-Death oriented, less Groove-Grind, probably…
However: less 'own-faced' and slightly predictable (and 'slightly' means 'enormously' – damn, what a predictability in some, several, too many, cases; so sad, so goatly sad…).
Cons and pros, bla and bla and even more bla, but what to think about the really wonderful Motörhead-cover The Ace Of Spades?...
PS: superb cover artwork! I do appreciate a modest laugh, and again MtG did succeed… As mentioned before (i.e. the former releases): go go goat! Horns up!