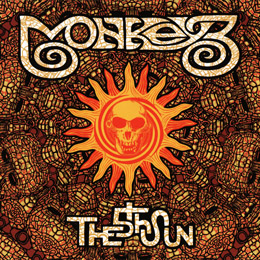 Ach, Monkey3...a band which is hardly an unknown entity to yours truly! It's a friend with a distro (whom comes to visit me 2-3 times a year, in order to plunder my bank account and enlarge my music collection beyond the stuff I come across thanks to this here website) whom first came along with the Swiss band's 2007 10-inch split-EP with Hypnos69 (which at that time was my main interest), which was released through the label (Rock 'n' Roll Radio) he was then active with...and subsequently sold me (almost) all of the band's previous (and later) albums.
I mean, not that there's thàt much material, you know, as the Lausanne based Swiss Instrumental Psych-Rock quartet, which has been together since 2001, growing out of a gathering of musicians playing jam improvisations of Stoner-trend music (and solidified with a line-up of guitarist Boris, keyboardist dB, bassist Picasso and drummer Walter), released their self-titled album in 2003 (on Belgium's Buzzville Records, don't you know!). This was followed up with 39Laps in 2006 (still on Buzzville), which, getting raving reviews from the media, opened doors to venues which were previously closed for the band. As the highlight in the band's career up to that time, the quartet played at Holland's Roadburn, and footage filmed during a European tour was included in the 2009 DVD Live At the Aventicum (the gross of the material of which was recorded during the band's performance at the Swiss Rock Oz' Arènes.. In 2009 also came the covers album Undercover (which remains the only album by M3 nót in my collection – see also first paragraph), which included vocals being done by guests John Garcia (of Kyuss fame) and Tony Jelenovitck (respectively on Kiss' "Watching You" and Led Zeppelin's "Kashmir"). For their 4th release, 2011's Beyond The Black Sky, the band signs to the German Stickman Records (but my distro friend still prevailed in getting me a copy to enlarge my vinyl collection), and continued to spread their instrumental music to the masses by playing at such prestigious festivals as France's Hellfest and the traveling (throughout Europe) Up In Smoke Vol. 4.
In early 2013 the band signed to Napalm Records' subsidiary label Spinning Goblin, and as a first result finds its debut album re-issued on vinyl (original release was CD only!). Meanwhile, the guys also secluded themselves in a studio, and recorded 6 new songs (total length just under 49 minutes) for their 5th release, fittingly titled The 5th Sun...for not only is this the band's 5th release, it is also a bit of "sun" coming into the listeners' houses! Expect the usual psychedelically-flavoured instrumental madness...with some sparingly uttered spoken vocals in a twosome of the tracks nevertheless (no song though!)...and great alterations between calmer and more energetic passages! I love these guys, and I'm so happy to find that the album will also be available in vinyl form (a double-LP gatefold version, which will boost a bonus track...which incidentally might be the same as on the limited edition digipak CD, you know – I mean, that might be "Zero The Hero", which was the b-side of the 7-inch single "Birth Of Venus", which preceded the album's release). For your pre-buying listening session (as if anyone knowing the band would need that), I direct you to the home page of (www.) monkeythree.com, where you'll find an edited version of album opener Icarus (normally almost 15 minutes long) and a full-length version (at least, so I assume) of the track "Once We Were...". In case you need it, there's more music available on that site (just browse a little, and you'll see...or, rather, hear ànd see – you'll find out what I mean by that when you come to it)
As we speak, the band's already done a first European tour (started mid-November and lasted 23 days, the band traveling 10,000 km to play in 7 countries...including Belgium, where they played at my "hometown" venue Sojo on Dec. 6 – of course I had to work that night!), so it might be a while before they're on the road again. Meanwhile, I mustn't forget to give my friend a call, see if he can't get me a vinyl copy of the album! Uh...of coùrse The 5th Sun goes into my "Best Albums Of 2013" lists...what did you think!?