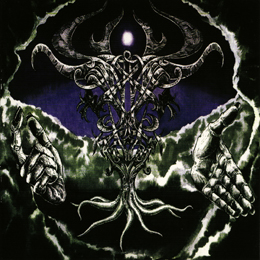 Nahash are a band from Lithuania, formed more than twenty years ago out of the ashes of Nemesis. They debuted on the first edition of the split series Dark Fire Dancing, created to promote the Lithuanian scene, and in 1996 they had this album out via Ledo Takas Records (owned by a former member of the band, Tadas Kazlauskas), back then on tape. One year later, Drakkar Productions took care of the CD-edition (it was this version that I bought back then, not the cassette), and now Inferna Profundus (they did re-release the 1994-demo Nocticula Hecate too in 2007) and Dunkelkunst, a sub-division of Kunsthauch, bring it out once again, with inclusion of a bonus track (and once again with different cover artwork). The stuff originally was recorded and mixed at the (legendary) Tamsta Studio, by the way.
Wellone Aeternitas brought / brings a very unique form of Black Metal, distinctive from what we're used to. It's rather slow-paced (with several faster pieces too; and despite me being a fan of slowed-down tunes of despair, I do really welcome this up-tempo majesty), with a focus on melody and technical structures, rather than aggression and hate-spreading. It sounds unpolished and little primitive, but the latter has to do with the sound and execution, and not with a lack of craftsmanship or professional attitude. The whole, by the way, has an extremely oppressive, dark atmosphere, and there is a great variety within each single composition. It goes for every single (lengthy) piece on the album. Besides, it isn't quite 'ambient' in the common sense we're using nowadays (despite the nice keyboard lines at the background), but one might consider this kind of material some sort of proto-ambient Dark / Black effort. The main problem with the original record, and this goes for this re-issue as well (why is there no re-recording?), is the terrible mix / production. It's an insult to have such strong material raped by an inferior sound; a professional production could have this record being defined as a Kult-record; unfortunately it did not.
The bonus track on this re-issue, Doctrina Ater, is in the very same vein, with a comparable approach (melodic structures, technical execution, and speed), a comparable sound, and a comparable, sweetly paganised spirit. It's not really a value, but something to be appreciated in any way.