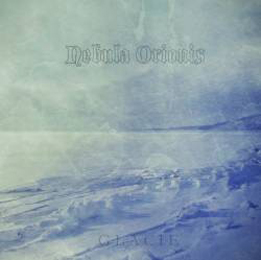 Release Date:
Saturday, December 21, 2013
Nebula Orionis are a very young project from Russia. There was a first EP in early 2013, called Aena, followed by a second one at the very end of 2013 (Glacie), and a full length in early 2014 (Summer). All of them have been self-released, but Kunsthauch will give a proper distribution right now, at least on the second record, Glacie. Let's hope the rest will follow soon.
Glacie was written and recorded by M42 (all instruments) with assistance, lyrically and vocally, by IC 434. It consists of four tracks (with a total running time of about eighteen minutes) and what they bring with this record (and this goes, evidently, for the first EP as well, and probably, I guess, also for Summer) is material purely inspired by / comparable to Lustre,  Summoning and the likes. The better part of the songs is based on celestial and / or atmospheric and / or ambient and / or fantasy-inspired synth-melodies (dark-mooded they are), with blackish vocals and some additional elements from Atmospheric / Ambient / Depressive Black Metal. Also the likes of Skythrone, Sieghetnar or Graven Dusk might come to mind (on top of the evident Lustre / Summoning-reference).
There are more projects / bands that wander this path nowadays, but, despite the very lustre-ish approach, Nebula Orionis are just won-der-ful in each single aspect. Their Summoning-alike oppressive darkness (just listen to the xylophone-sounding synth-leads on Spell Of Polar Night, for example) or the Lustre-approach (like on opener Glacie) equal the huge level of the originators, and me like, me like, me like…! You must too…