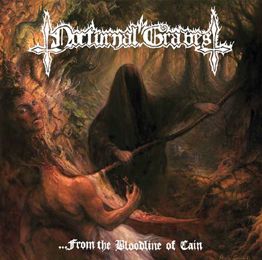 Album Title:
…From The Bloodline Of Cain
Release Date:
Tuesday, November 12, 2013
It was sad to learn that Australian top-commando Nocturnal Graves broke up in 2010, for this band was known for that typifying Aussie-styled Blast-Death violence. But dry your tears of blood, semen and mucus, and behold… …From The Bloodline Of Cain! Are Nocturnal Graves' representatives descendants of Cain himself, with all forbidden pleasures once emerged? The past aural efforts do balance my opinion towards a positive answer, and this new album (thank the Horned One for this filthy resurrection!) won't contradict.
So let's be honest: doesn't bring …From The Bloodline Of Cain another half an hour of deadly morbidity? Oh yesss, it doesss, my preciousss. This album is another prove of the specific bloody, filthy and nasty brutality that comes from the southern half of our wasted globe (and then I am referring to the South-American scene(s) as well, besides the great Australian one). It's like an all-destroying bulldozer-pleasure for man's ears with a sarcastically masochistic attitude, evidently. No, seriously, this stuff is grandiose in its simplistic extremism, paying tribute to the glory days of Australia, Brazil, Germany and Botswana for its mostly fierce and fiery symbiosis of Death, Thrash and Black Metal from the Old School.
No tricks, no gimmicks, and for my concern, no further blablabla. If you're issued to Cain's glorious past, with the same sulphured blood running through your veins, you will be satisfied…