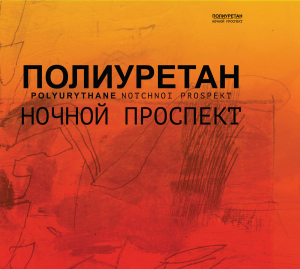 Album Title:
Polyurythane (Полиуретан)
Maybe a strange one on this site, but seen the label involved, I think it was my duty to write down my thoughts on this recording, for both label and the band do deserve some additional support and promotion for sure.
I did not know this band, Notchnoi Prospekt (Ночной проспект), which means night avenue. In 1985 (!), two Moscow-based artists joined forces to play an eccentric form of Electro-Pop with elements from other genres, like Punk, Industrial, New Wave and Rock. Soon after, both members, vocalist / guitarist Alexei Borisov and synth player Ivan Sokolovsky, were joined by drummer Sergei Pavlov and violinist Dmitry Kutergin, and slowly on their style evolved into a more experimental, psychedelic, improvised and absurd direction. And you know, during the late Eighties and very early Nineties, they were quite 'popular' in their home country, and even abroad.
In 1995 the band sort of split up. Original member Ivan already left some years earlier, and the project turned into an experimental modular project. But a couple of years later, in 2000, the original members decided to join forces once again, and they still do. Unfortunately, Ivan passed away in 2005, but apparently his son, Pjotr, continues collaborating, paying tribute to the remembrance of his father.
Enter 2017. Frozen Light, a Russian label with an extremely open-minded vision, signed the project to have this new album released – the first 'real' studio album since 1992's Music For Dance (!). It gets released in digipack format, including a folded eight-page booklet, which includes the texts, and this in a very limited edition of 300 copies. Oh yes, these lyrics are in the band's native tongue, so if you do not understand Russian, you're f*cked, haha. But at least, the song titles have been translated in English. All music was written by Alexei (voices, strings and electronics), often with assistance of other collaborators (especially Cisfinitum's Eugene Voronovsky [he collaborated as violinist, keyboardist and programmer, as well as doing the album's engineering duties] and Olga Nosova [voices and instruments]), and remarkable is that the better part of the lyrics were written by the Moscow-born poet Sergey Sidorov. Long-time friend Dmitry performed most electric violin parts once again too.
On Polyurythane (Полиуретан), the band brings especially older and some newer material, which are quite diverse and extremely bizarre and eccentric. To make it myself easier, I will use the English song titles as from now on, and the description well be kept brief yet to the point. Opener Radio Set, for example, which is the oldest piece from the band (1981), brings a mixture of Eighties New Wave, Gothic Rock and Electro Pop with an energetic tempo, semi-spoken vocals and psychedelic guitar riffs. Turtle is a narrative with psychedelic instrumentation (guitars, bass, sound effects, drum programming, percussions, violin), and it somehow sounds like some Badalamenti work with spoken words. Two initially looks tribal in essence, with a mesmerizing buzz, but the spoken words, spacy effects, Dub-Step beats, eclectic strings and cosmic synth melodies make this another weird listening experience. Hitler's Drawers is a newer piece (2005), which mingles Goth Rock, Rockabilly, Electronics and Psychedelica, with twisting drum rumbles, melodic voices and lots of other weird elements. Skipidar too is based on spoken words, with dreamlike (and then I am referring to the mushroom-dreamworlds, haha) acoustic and electric guitars, female spoken word samples, progressive bass lines and twisted violin lines. A lot of free impro is surely involved! The track Winter Sea opens with acoustic guitar melodies, assisted by floating keyboards jazzy basses and percussion, continuing with female chant (by Olga) to accompany the listener to a world of Jazz Noir, once again somehow reminding me of the craziest things ever done by Badalamenti end co. Player is the acoustic reinterpretation of the original piece from 1987, mixing elements from e.g. native Folk Music, Ska, Indie Rock and Free Jazz in a mostly absurd way. Beard is electronic, somewhat the Chiptune or 8-bit way, jolly and playful, and injected by details from Post Punk and New Wave. The next piece, Quarrel, is a symbiosis of Ska / Reggae, Electro Pop, Dub Step and Cold Wave, with frenzy sound effects and manipulated vocal lines (besides the 'usual' spoken word representation). Telephone Call is a darker narrative, basically based on a grooving bass line and jazzy percussion, with different other instrumental (like semi-acoustic guitars) and vocal (harmonious female voices) injections. Towards the end, details from improvised Free Jazz and Psybient / Electro join the fun. Next comes the title track, Polyurythane, which trespasses the limitations of 'ordinary' electronic Music in each single meaning. Alexei's vocals are the most varied here, with melodic and spoken word. Dub Step Electro, Disco Music, Space Electro and Ska are canalised into an up-tempo experience with a catchy character. For what it is worth, this piece is my personal favourite, if only it was for the varied vocals, the brave percussions and the cool underlying bass lines. The album ends with the so-called Dreamscape Yogurt Mix of Telephone Call, a heavier and droning Electro track that sounds like a slowed-down EDM piece with a bad mood. The drum programming has been worked out very deeply, majestically supporting the darkened electronics / synths and the dual vocals (the leads by Alexei plus the additional voices of Olga).
So, you might give it a try – I'm sure you can find a streaming opportunity somewhere. Do not expect a Dark Ambient of Power Electronics recording, to refer to two extremes that might appear on this site. Yet still, some amongst you might be that psychotic and frenzy that you might adore this material. Don't take it to seriously, for this is free impro stuff, psychedelic, absurd and sarcastic. That might be a reason to embrace Polyurythane…
https://frozenlightlabel.bandcamp.com/album/polyurythane