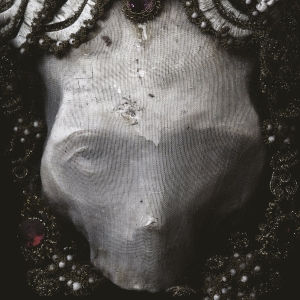 Release Date:
Friday, December 21, 2018
A short while ago, Dutch act Hadewych started a series of live performances, with an extended set of drummers and percussionists, in order to create something overwhelming and majestic. For a part, these gigs were exercised before, yet there was quite some improvisation involved as well. And seen the successful result (the members involved were quite excited too afterwards), Hadewych's Peter Johan Nÿland came up with the idea to do something with this new direction, for the result of this mutual collaboration was slightly different from the core of Hadewych, yet at least as attractive. That's where and when the seed of this impulsive idea started to grow.
So, Peter, quite productive and active (also involved with e.g. Skymme, Distel, Trepaneringsritualen or Norn, and known from his collaboration with artists like Sjoerd de Vos and Dead Neanderthals; besides, he's also active as mixer / master, but that would bring me too far right now), joined forces with some colleagues under the working name of O Saala Sakraal. He wrote and recorded several compositions, which were created with assistance of percussionists Scramasax (his colleague in Distel and Hadewych), Patricia Manko (also involved with Hadewych), Rene Aquarius (Dead Neanderthals a.o.) and Donné Brok (from the Donné Et Desirée ensemble). The result is a two-track album, called Etmaal (which is the Dutch word for a 'natural day', '24 hours', or 'a day and a night'). It appears the digital way and on compact disc; the latter being a six-panel digipack that was printed in an edition of (only) 300 copies, released via the mighty Cyclic Law label.
The label: Ambient and Drone, Ritual and Mystic Music. The band: several percussionists and involvement with bands and projects within the Ambient and Drone, Ritual and Mystic Music scene. The idea: indeed, you have it!
A lot of percussion instruments are used: 'regular' drums and cymbals, tribal percussion, bells and chimes, war drums, tympany, metallic and wooden objects, gongs and other Buddhist instruments (like Dharma drum, if I'm not mistaken), strings, and so on. Besides all this, O Saala Sakraal makes use as well from synths, tapes, vocals (spoken words, evocative voices, chants), strings, and noises / sounds / samples. The result is a mystic, occult, magic and mysterious Aural Ritual, and the one hand hypnotic and bewitching, at the other enthralling and exciting. There is a lot of variation throughout both lengthy compositions, with moments of integrity and devotion, versus disturbing and obscure parts. With the intention to explore a way 'to serve as a channel between the ethereal and chthonic, sacred and profane, the innermost black well and the outermost white sun', the album translates the contrasts of day and night, sun and moon. The label describes it as 'more monolithic, mystical and opaque' than Hadewych, and you know, that's correct.
Highly recommended, in case you like Ritual / Dark Ambient / Drone majesty…