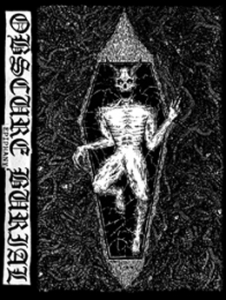 Release Date:
Monday, September 15, 2014
Two years after the first demo-tape, which was called God's Abomination, the Finnish horde Obscure Burial returns with the sophomore demonstrational recording, once again released on cassette via mighty Invictus Productions. The band, with members of Ancestors Blood, Inferi, Kadotus and Urgamla, is quite experienced, seen the members' other outfits, and it shows!
Epiphany consists of four new lullabies, lasting in between four and five minutes each. The demo brings utterly primitive, very old schooled and blaspheme Black Metal with elements from Death and Thrash Metal, of course from the very old school too. The riffs are pretty fast, technically-executed, and still maintaining a certain flair of melody. The rhythm section is of the purely supportive kind, but with a power unnamable. The drums do a cool job, especially within the slower parts; during the blasting pieces, the drums are sometimes too exaggerated in speed. The bass parts, unfortunately, aren't that well hearable, for the mix is beneath average. And the vocals, well, they scream, growl, grunt, and they breathe sulfur, they spit venom, they curse and swear. Every single piece varies a lot, with for example a great deal of tempos. The focus lies of fast to hyper-blasting assaults, with more than once a mid-tempo piece. And on top of it, there are a couple of fabulous doom-speeded decelerations as well.
Think: early Possessed and Samael (within the slower pieces), Profanatica, Bestial Warlust, Impiety, Blasphemy, Sadistic Intent or Demoncy to have an idea of what Obscure Burial stand for.